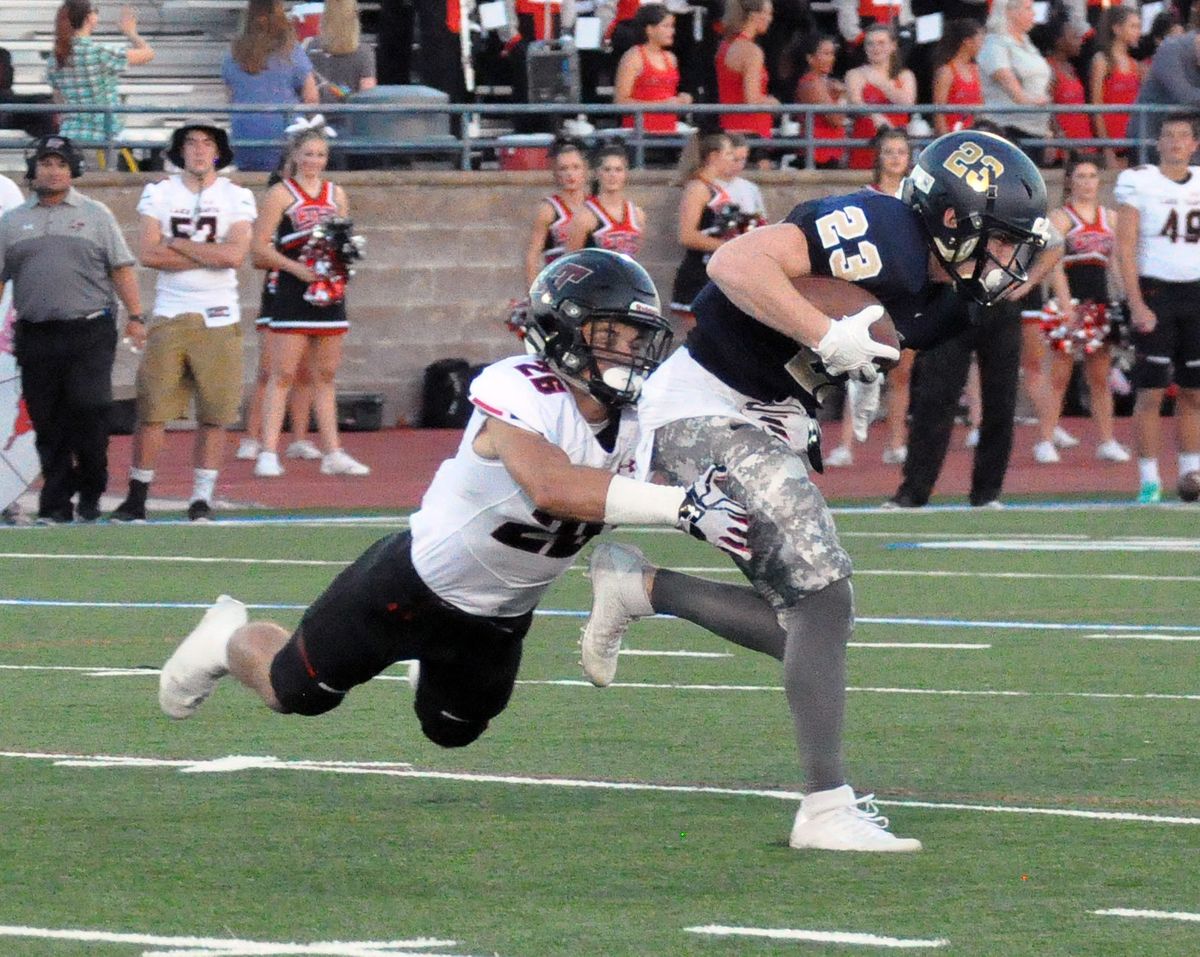 As playoffs approach, defensive backs keeping receivers, goals in front of them
As Lake Travis heads into Friday's 6A, Division 1 playoff opener against San Antonio Madison, its proud defense continues to put in the work to erase a rather unaccustomed start to the season.
Long gone in the midst of a 9-game winning streak are a pair of showings that the Cavalier defense would just as soon forget. They struggled to get off the field in allowing 35 points in a season-opening loss to Converse Judson, then gave up 56 points in a double-overtime win at Cibolo Steele, the highest total Lake Travis has allowed since 2002.
Lake Travis coach Hank Carter said that the defense has gotten past those games and continues to look more and more like the Cavalier defense he's used to seeing. Especially in the secondary.
"We've come a long way from the first game," senior safety Michael Mast said. "Coach Carter likes to put a lot of new things on the defense and it's really hard to get it all together for the first game. The more practice we've had the better we've gotten."
The results make Mast's point.
Since that Judson outing, the Cavaliers have allowed just two teams to score in double-digits and have kept three of the last four opponents off the board altogether. While the entire defense has stepped up its game, the secondary continues to grow as well. After allowing four touchdown passes in the first two games, opponents have managed just two since, both by Hays, way back on Sept. 23.
Mast and fellow senior safety Austin Hiller anchor the secondary, but the man-to-man coverage duties have fallen on the trio of senior Aaron Brown-Nixon and juniors Jake Foster and Nathan Parodi. While Hiller, Mast and Brown-Nixon had skins on the wall heading into the season, Parodi and Foster are first-year varsity players, though they aren't playing like newcomers anymore.
"That group has gotten better," Carter said. "The safeties, too. We throw a lot at the kids so it takes some time. But it's all in now and we're at the point where we're just refining it, and we're getting better."
The DBs know the improvement has more to do with just their play, and there's still more to do.
"A lot of it has to do with the defensive line," Parodi said. "They have really stepped it up, getting a great pass rush, which makes it easier to do our job. Then again, we have to do a lot better. We have a lot to improve."
Parodi's path to the secondary has been a familiar one for once-aspiring Lake Travis receivers. With potentially the deepest receiving group in the state returning from last year's run to the title game, playing time for newcomers would be hard to earn. So the coaches looked at the athletic Parodi and asked him to try corner.
"With a lot of kids his grade, he saw that we have a backlog at receiver a little bit right now," Carter said. "We're always looking for corners and I think it will always be that way. [Offensive coordinator Mike] Wall thought if we put Parodi over there at corner, he'd be able to go and make plays."
Despite playing through a fractured finger, Parodi proved Wall – and Carter – correct. Tested early by Westlake, he responded by breaking up three passes early in the game and has broken up six passes, second on the team. While they're still waiting for him to hang on to an errant pass thrown his way, coaches have been impressed with his physicality.
"What's impressed me most is the way he's come up and tackled," Carter said. "He's not a very big kid, but he gets in there and throws his body around."
When Brown-Nixon missed time after an injury against Steele, Foster jumped into the lineup and made interceptions in back-to-back games, earning more playing time and allowing Carter the flexibility to move Brown-Nixon, normally the boundary (short-side) corner, to move around in different blitz packages. His two interceptions still lead the team.
"Jake's a gamer," Carter said. "When the lights go on, that dude can play. Jake can do things that very few people on our team can do."
Mast was one of the few Cavaliers who enjoyed one of his best games against Katy and has played his senior season with that confidence despite changing positions.
"He's a high-level player from a year ago," Carter said. "He's one of the most athletic kids we have in the program and the way he goes out and plays the ball in the air, he's probably the best on we have at playing the 50-50 ball."
Two weeks ago, Vista Ridge quarterback Jacob Taute tested the Cavalier secondary by going deep time and again, finding some success. Mast knows the Cavaliers will face better teams with better passing attacks as they playoffs progress, and they'll be up for the challenge.
"I think teams may see that on film and try to test us a little bit, but I think we're going to be ready for it," he said.
Lake Travis allowed just 1,160 yards passing and six scores during the regular season. Only two of the Cavaliers' last seven opponents passed for more than 100 yards in a game.
Defensive backs
Lake Travis' defensive backs have become very stingy against the pass.