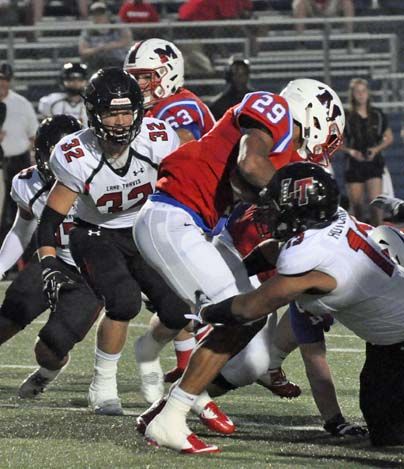 Waco Midway Quick Facts
Hello again
Lake Travis and Midway meet for the second time this season. The Cavaliers won the season-opener in Midway 48-24. Midway quarterback Sam Glaesmann suffered two interceptions and a fumble in the loss. Cade Green caught a 77-yard touchdown pass from Charlie Brewer to put the exclamation point on the Cavaliers' win.
Rematch
Lake Travis has played a playoff game against a regular season-opponent four times in its history prior to this week. The Cavaliers have never lost a rematch. In 2013, Lake Travis crushed Westwood 52-7 after topping the Warriors 53-16 in the regular season. In 2008, Lake Travis topped Killeen 50-9 in the regular season and 71-9 in the regional final. Two more hotly contested rematches came against Cedar Park in 2010 and 2011. In 2010, the Cavaliers avenged a regular season loss with a 21-20 win secured by Dylan Bittles' late quarterback sack. In 2011, the Cavaliers doubled up the Timberwolves with a 14-9 win. Brock Kenyon's late interception sealed it for the Cavaliers, who'd beaten CP 24-17 in the regular season.
On a roll
Midway didn't let the season-opening loss to Lake Travis derail its season. The Panthers dropped their first three games of the season but have rebounded in a big way. Midway enters Saturday's game on a 9-game winning streak, including playoff wins over Garland and Highland Park. Midway's relied on its offense. In the win streak, the Panthers have scored at least 40 points in eight of nine games. The lone exception is a 34-7 win over Harker Heights.
Sam's the man
After struggling against Lake Travis' defense in the opener, quarterback Sam Glaesmann has been the catalyst for Midway's high-scoring attack. The Rice commit completes 65 percent of his passes and has passed for 2,792 yards with 28 touchdowns. He tossed a career-high five touchdown passes in last week's win over Highland Park. He's added nearly 600 yards rushing on the season as well. He earned Dave Campbell Texas Football's Week 10 Player of the Week after torching Belton for 345 yards passing, 95 yards rushing and five total touchdowns.
Playoff pedigree
With this season's foray to the regional semifinals, Midway has now played at least 13 games in a season in five of the last six seasons. The Panthers reached the state title game in 2011, falling to Lake Travis 22-7 in the 4A-I title game. Midway reached the regional finals in 2012 and 2008. Since 2008, Midway has posted an overall record of 87-17.