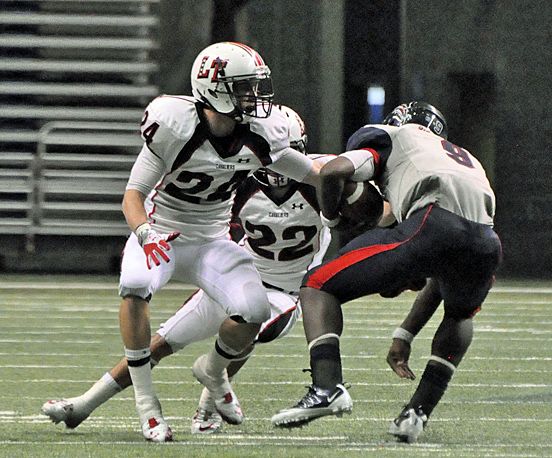 This week in LT football
Lake Travis' state semifinal history
2013: Can't saddle the Horns
Playing its first semifinal at the 5A (now 6A) level, Lake Travis leads Cedar Hill 10-7 in the fourth quarter before the Longhorns' punishing ground game takes its toll on the Cavaliers. All-state receiver Damarkus Lodge beats Chaynce Pannell on a fade pattern for the go-ahead score and Aca'Cedric Ware clinches the 19-10 win with a late run. It's Lake Travis' first ever semifinal loss.
2009, 2011: Dominating Dawson
Dawson, the newcomer in the Pearland ISD, had two cracks at Lake Travis in the semifinals. In 2009 at Kyle Field, Dawson was determined not to be intimidated and initiated a pre-game fracas at midfield, sparked by quarterback Darian Lazard's game-week comments that Dawson wouldn't be afraid of Lake Travis. The Cavaliers made him eat his words, forcing him into four interceptions and sacking him six more times. Lake Travis scored early and often, leading 43-6 at the half en route to a 57-12 win. Michael Brewer rushed for five scores and tossed two more scoring passes to Andy Erickson. Two years later, Baker Mayfield and Colin Lagasse picked up where Brewer and Erickson left off. Dawson led 14-10 before the Cavaliers reeled off the game's final 35 points. Mayfield tossed four touchdown passes, two to Lagasse, in the win. Both Lagasse, who finished with four touchdowns in all, and Zach Austin topped the 100-yard mark in receiving.
2008, 2010: No way to treat a Friend
Two of Lake Travis' semifinal wins have come against Friendswood, both at Kyle Field in College Station. In 2008, Garrett Gilbert sparks the Cavaliers to a 35-7 lead thanks to two touchdown passes and two touchdown runs before halftime. He passes for 262 yards, rushes for another 132 yards and runs or passes for six scores in the 56-22 win. If an offensive outburst doomed Friendswood in 2008, Lake Travis defense dominates in 2010. Led by two interceptions from Bryan Kribbs, Lake Travis gets four interceptions to keep the Mustangs in the stable. Michael Brewer generates enough offense, including a touchdown pass to senior Connor Floyd, who was making his return from a broken leg suffered in the season opener, in the 24-3 win.
2007: Bucking the Broncs
Leading up to the 4A semifinal against Dayton, Lake Travis players hadn't seen a collection of athletes like they'd face at Kyle Field. After a nervous practice, quarterback Garrett Gilbert declares to teammate Austin Pollard, "I won't let us lose. I promise you, I won't let us lose." Gilbert delivered by completing 34 of 40 passes for a career-best 474 yards with four touchdowns in a 49-13 rout. Cohl Walla and Jason Bird combined for 25 catches and 301 yards.