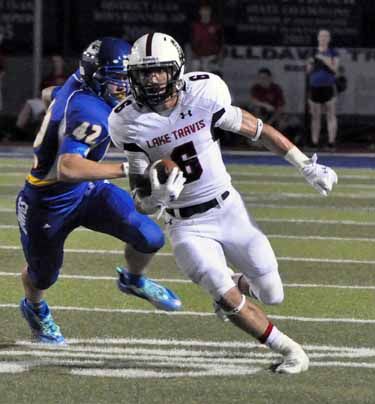 This week in LT football
Notable happenings from week two in season's past.
2000: In a game against McCallum, starting quarterback Travis Williams suffers a broken leg. In his place steps Cody Skaggs, who quarterbacks the Cavaliers to a 35-7 win for the team's first win of the season. That team would go on to become the first playoff team in Lake Travis history.
2007: Westlake tops Lake Travis 28-21 as a late Cavalier rally falls short. The Chaps intercept Garrett Gilbert four times, including a late one in the end zone that sealed the game. That defeat would be the last one Lake Travis suffers until 2010. The next week against Westwood, Lake Travis begins what would become a 48-game winning streak.
2012: Lake Travis scores on its first play from scrimmage, a 34-yard touchdown run from Baker Mayfield, en route to a 49-7 win over New Braunfels Canyon. Shaun Nixon adds a highlight-reel 87 yard touchdown run. It's Lake Travis' first home win as a 5A school and the 24th straight win for the school following a week 10 defeat against Cedar Park two seasons prior.
2014: Cade Green gets open, corrals a pass from Charlie Brewer and sprints 88 yards for a touchdown that helps set the tone in a 47-16 win over Copperas Cove. It's part of a career-night for the then-sophomore, who catches nine passes for 166 yards and two scores. Brewer passes for a career-high 322 yards and four scores.