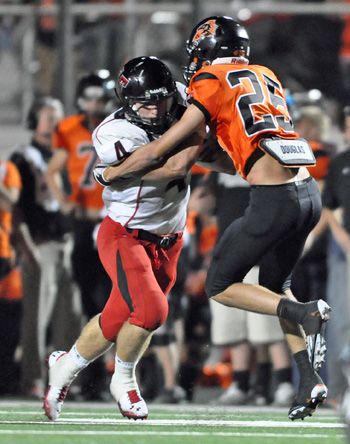 This week in LT Football
Notable happenings from week 3 in Lake Travis' past
1996: Lake Travis rallies to defeat Smithville on a stormy night in Bastrop County for the season's first win. Tanner Nall's long pass to Ryan Cummings provides the deciding score in the 16-14 win. The team then drove home through thunderstorms that threatened to spawn tornadoes.
2000: Lake Travis falls to Fredericksburg 27-14 to open the newly completed 5,000 seat Cavalier Stadium, then called the Lake Travis Sports Complex. Prior to opening the new stadium, Lake Travis played its home games at the stadium on top of the hill, capacity 2,000. Cavalier Stadium has since been expanded to hold 7,000 fans.
2007: Lake Travis guts out a win over Westwood. The 18-10 victory becomes the first of what would become a 48-game winning streak that would extend into the 2010 season.
2010: The Cavaliers host Aledo in a battle of defending state champions. The Cavaliers had won the 2009 4A, Division I title while the Bearcats had prevailed in Division II. Aledo, featuring future state-record holder Johnathan Gray, prevailed 14-10 over a Lake Travis team playing without quarterback Michael Brewer, who'd injured his shoulder late the week before. The loss snapped the Cavaliers' 48-game win streak.
2011: The battle of defending state champions, take two. This time in Aledo, both the Cavaliers and Bearcats meet again after winning the 4A championships. While Gray would set the state scoring record in the game with four touchdowns, Lake Travis had way too much offense. Griffin Gilbert scored three times, Baker Mayfield passes for 468 yards and six scores, and Lake Travis gets its revenge 62-35.