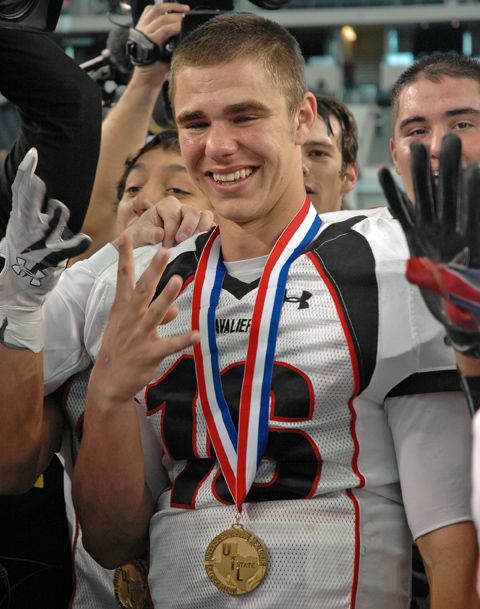 This week in Lake Travis football
A look back at significant week 1 happenings
Brew Debut
In 2009, Cavalier junior quarterback Michael Brewer made his first start following the graduation of then-Texas QB Garrett Gilbert. Brewer torched Westwood 55-31, passing for 379 yards and four touchdowns and adding two more on the ground. This week, another junior quarterback named Brewer starts, but Charlie's start won't be his first. He started three times last year, including passing for 306 yards and a score in the opener against Waco Midway.
Great Lakes Rivalry
Before they were district rivals, Lake Travis and Westlake opened the 2010 and 2011 seasons under the lights of Darrell K. Royal-Texas Memorial Stadium. An estimated 30,000 fans turned out for the 2010 match-up, in which both teams entered the season having reached (Chaps) and won (Cavaliers) their respective state championship games in 2009. The Cavaliers won both meetings at DKR: 32-21 in 2010 and 35-7 in 2011.
Panthers' belated revenge
Lake Travis dropped its 2014 opener to Waco Midway 38-30 when a last-ditch drive ran out of time. For Midway, the win served as a better-late-than-never revenge against the Cavaliers. In December of 2011, Lake Travis topped Midway in the 4A, Division I championship game to claim its fifth consecutive state championship. In last year's win, Midway got 300 yards and three passing touchdowns from Ben Hicks, including the clincher, a 71-yarder to Devontre Stricklin with three minutes left. The loss marked Lake Travis' second straight season-opening defeat, following a 2013 25-19 loss to Converse Judson. Both losses came at home.
Stopping a slide
In 2005, Todd Reesing and Fred Robinson lead Lake Travis to a 36-7 win over Taylor, snapping a five-year streak of losing the season's opening game. From 2000-2004, the Cavaliers lost openers to Hays twice, Anderson twice and Taylor. The win over Taylor saw the Cavaliers win eight straight season openers before losing their debut in 2013.