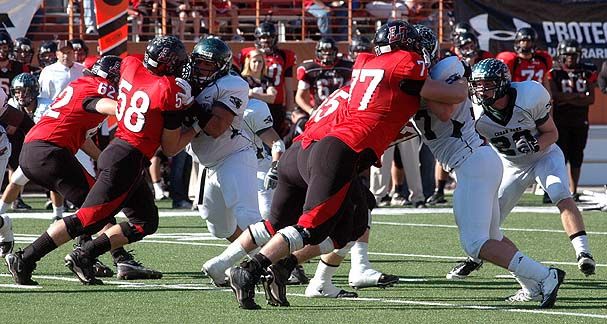 This week in Lake Travis football
Notable week 10 happenings from season's past.
1999: Falling short but ending a streak
Lake Travis 28, Marble Falls 21. Needing a win and help to earn the school's first playoff berth, the Cavaliers beat the Mustangs, but not by a wide enough margin to climb to the top of a tie for the final playoff spot. The win does, however, end a 14 year drought. It had been since 1985 that Lake Travis had won in the final week of the regular season.
2000: Playoff clincher
Lake Travis tops Bastrop 22-10 to earn the first playoff berth in school history. James Duncan, a running back/defensive back, scores the decisive touchdown as the Cavaliers finally get to taste post-sesaon football.
2008: Unhappy Halloween for Drip
Playing in his final home game, Garrett Gilbert leads Lake Travis to a Halloween thumping of rival Dripping Springs, 42-3. The Tigers lead 3-0 after one quarter only to see Gilbert bring the Cavaliers roaring back. Gilbert tosses touchdown passes to Austin Pollard and Colton Volpe and Chris Aydam runs for two more. It's also the first time Lake Travis wears its alternate red jerseys.
2012: Baker's bomb
In its first 5A season, Lake Travis finds itself in a deep hole at Westlake, trailing 11-7 with four minutes and needing to go the entire length of the field to steal a win. No problem. Baker Mayfield buys time by scrambling away from pressure in the end zone and launches a pass toward midfield, where Grant Foster had gotten behind the secondary. Foster's catch and run gave the Cavaliers a 14-11 win.
2013: Fourth quarter rally
Same stuff, different day, almost. A year after Lake Travis' late rally, Westlake again takes control against the Cavaliers, opening up a 27-14 lead heading into the fourth quarter. But Lake Travis, bound for a state semifinal run, flips a switch and dominates the fourth quarter. Westlake possesses the ball twice, both resulting in three-and-outs. The Cavaliers' offensive line paves the way for Shaun Nixon to rush for 124 of his 130 yards in the final quarter, including the winning score as Lake Travis foils Westlake 28-27.