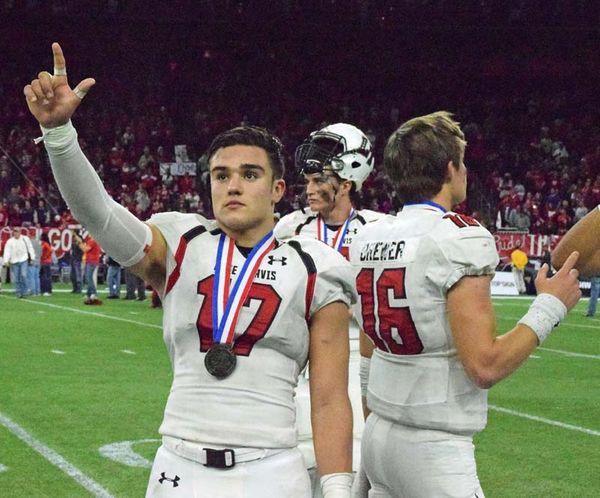 Season recap: Loss gives young Cavaliers plenty of motivation
Before he packed up the family for some much needed rest and relaxation for Christmas and New Year's, Lake Travis football coach Hank Carter made a decision.
Coming off a frustrating state championship loss – the school's first-ever championship game loss – to Katy, Carter won't harp on the loss during the offseason. He won't have to.
"We'll learn and we'll talk about it throughout offseason," the coach told 104.9 FM The Horn last week. "I want to be careful not to rub things in our kids' faces. They are hurting. Unfortunately, that will be the most lasting memory we have of this season. I'm sure I won't have to remind the kids too much about how it went."
Offseason begins in January, when the large number of returning players – nine offensive starters and five defensive starters from the title game will return – turn the page and take the first steps to writing a new chapter.
Offensively, the Cavaliers must replace offensive linemen Jeff Gibbs (Penn) and Griffin Lemley (Harvard-bound senior running back Abe Willows saw his season end in October) but return all of the key players who started during the playoff run, including quarterback Charlie Brewer (3,426 yards, 42 TD passing in first season as starter) and Cade Green (72 catches, 1,172 yards receiving with 17 total TDs).
Brewer blamed himself for the Cavaliers' struggles against Katy – he threw two interceptions and lost a fumble. But he's trying to turn the page.
"It's unfortunate," he said. "We learn from it. Hopefully we can come back stronger from it."
Carter said last week the Cavaliers' youth may have contributed to some uncharacteristic mistakes, mistakes a veteran Katy team making its fourth straight championship appearance made Lake Travis pay for.
"Uncharacteristically, we played with some jitters and we made some mistakes that were not typical to how we'd been playing all year long," Carter said. "A great opponent will do that and a big stage will as well, and for the first time, we really showed some of our youth there."
Along with Brewer and Green, the Cavaliers also return top receivers Cade Brewer (41-813-15), Maleek Barkley (56-698-10) and Mac Humble (50-493-3). Santiago Villegas, who stepped in for Willows after his injury, also returns after rushing for 955 yards and 13 scores. Center Matthew Armendariz and tackles Tyler Barrett and Brenden Jaimes will return to anchor the line.
Defensively, starting linebackers Aidan Estrada and Mateo Lopez return, as do safety Austin Hiller, corner Aaron Brown-Nixon and rover/safety Michael Mast, who made six tackles in the title game. Injured defensive tackle Sammy Ochoa, who missed the last half of the season including the playoffs, also returns.
Falling short in the title game takes a lot of the shine off of a highly successful season, and Carter will try to remind the Cavaliers of two things during the offseason. First, reaching the state championship game is something to be proud of.
"Unfortunate that we fell a little short but we're extremely proud of how our kids competed and what we accomplished this year," he said. "Any time you can get to the state championship game, it's a tremendous honor and it means you've done a lot of really good things during the season."
But there's value in the painful lessons Carter's young team learned, and the work to reinforce those lessons begins at the off-season's first workout, especially if the Cavaliers want to prove their quarterback right.
"I will use this as an example of things that, if we want to get to the highest level of high school football in the state of Texas," Carter said, "then there are some things we need to do a little bit better."