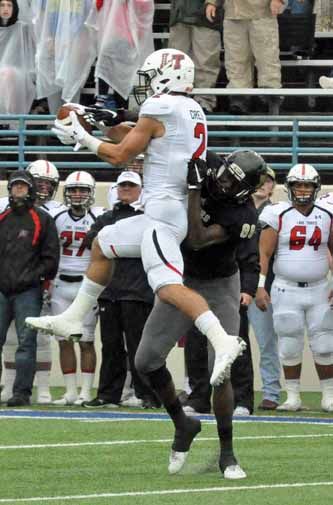 Receiver's return gives offense the green light against Mansfield
Cade Green didn't much like missing Lake Travis' 45-24 win over Rockwall a week ago, so he took his frustrations out on Mansfield Saturday afternoon.
"It feels good to be back," Lake Travis' junior receiver said following a 49-21 win over Mansfield. Green missed the Rockwall game with a leg strain but more than made up for lost time in helping spark Lake Travis to the win and a berth in the 6A, Division II championship game against Katy this weekend.
The Cavaliers found themselves trailing 7-0 and facing a third and 11 early against Mansfield. That's when Green went to work, making consecutive grabs to get the Cavaliers moving.
"It was good to get the offense moving fast," Green said. "Charlie [Brewer] hit me on a couple of routes and that gave us momentum and we just took it from there."
A 26-yard grab in front of Mansfield's Michael Christopher gave the Cavaliers their initial first down, and eight plays later Brewer scored from a yard out to tie the game. From there, Lake Travis rolled to a 35-7 lead before coasting home. Mansfield never had an answer for Green. Lake Travis' leading receiver made a career-high 10 catches for 168 yards and the final score. He topped the 1,000 yard mark for the season in the game.
"It was awesome to seal the deal there," he said. "It was a great feeling."
While the Cavaliers didn't miss a beat in the win over Rockwall, having him back on the field made a big difference against Mansfield.
"It was great to have him back," said Lake Travis coach Hank Carter. "We're a much better football team when we have him in there. We have a lot of great players but with Cade there it's really tough for them to focus on any one person."
Green's presence kept Mansfield from paying extra attention to Maleek Barkley, who added three more touchdowns – two receiving – to up his total to 15 playoff scores. Charlie Brewer also hit Cade Brewer for a score and caught a touchdown pass to boot.
"I'm proud of all of our kids, our skill kids," Carter said. "Maleek Barkley, Cade Green, Cade Brewer, Charlie Brewer, all those guys were really good today."
Brewer's 329-yard passing day and Barkley's 117-yard rushing effort overshadowed what Lake Travis accomplished on defense. Despite allowing 21 points, the Cavaliers held Mansfield running back Kennedy Brooks in check. Brooks came in averaging nearly 250 yards per game. Lake Travis limited him to 170 yards and two scores on 31 carries. Brooks only had two runs longer than 10 yards.
"Obviously that guy was an extremely good player," said defensive tackle Tevin Paul. "He had a bunch of plays on us, but I feel like we knew what we needed to do coming in and I feel like we did that to the best of our ability."
By limiting the long runs, the Cavaliers forced Mansfield into passing situations and took advantage, intercepting Dameron Smith twice on a windy, damp day.
"We felt like if we could get them to throw the ball when we were expecting it, we'd have the advantage there," Carter said. "I know that people thought if the weather is bad, it's really going to hurt Lake Travis. It does hurt us a little bit, but we're pretty good at throwing the football. It hurts the other team throwing it too, and I like our chances when it comes to that."
There will be no such elemental advantage when Lake Travis faces Katy in the state championship game inside Houston's NRG Stadium. The Cavaliers understand the challenge that awaits in the unbeaten Tigers.
"We're going to have to play our best game of the season," Green said. "They've got a great offense and they'll try and keep us off the field. I know our defense is going to step up, but we definitely have to step up on offense."
Carter summed it up succinctly.
"Katy's a solid team and we're going to have to play at our best," he said. "I'm sure they are really really good."