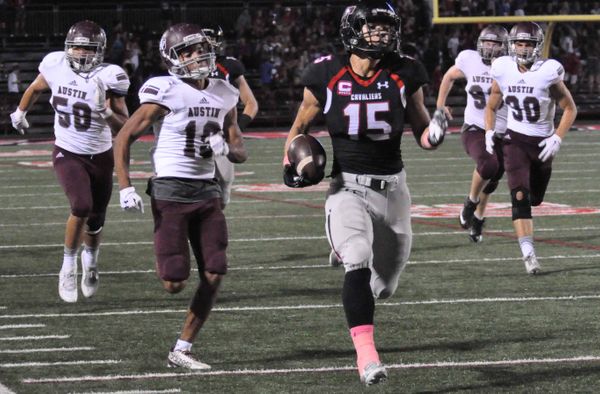 Quick start spurs Lake Travis to another rout
Maleek Barkley returned the opening kickoff for a 97-yard touchdown and Lake Travis (7-0, 5-0) cruised past Austin High (4-3, 2-3) 70-0 in its final game before next Friday's showdown at Westlake.
Barkley fielded the opening kickoff, made a cut up the middle and ran untouched for the touchdown.
"I saw daylight and hit it," Barkley said. "We wanted to set the tempo right from the start."
Charlie Brewer and Abe Willows each ran for two scores as Lake Travis used its ground attack to dominate the Maroons. Lake Travis rumbled for 400 yards rushing on 32 carrries. Willows led the way with 92 yards on just four carries. Backup quarterback Josiah Snowden gained 84 on four carries, including a 62-yard score. Brewer gained 77 yards on four carries while completing just eight of 12 passes for 114 yards.
Lake Travis outgained Austin High 546-135 on the night.
The Cavaliers also got touchdown runs from Cade Green and Santiago Villegas. Michael Mast added a special teams touchdown when he returned a fumble for a score when the Maroons mishandled a kickoff.
"We were a little out of sync with our passing game early," Cavaliers coach Hank Carter said, "and Charlie got knocked around a little bit. We've got some things to fix but I can't complain about the performance."
Lake Travis' defense registered its third shutout in four games. Since Hays scored 13 points on Sept. 12, the Cavaliers have allowed just a fourth-quarter field goal to Anderson, last week. Lake Travis limited Austin High to just 135 yards of offense on the night.
"We wanted to get ourselves set up for next week," Barkley said, referring to the showdown with the Chaps. "We're going into that game full speed."
Both Lake Travis (sixth) and Westlake (eighth) are ranked in the state polls and will enter the game undefeated.