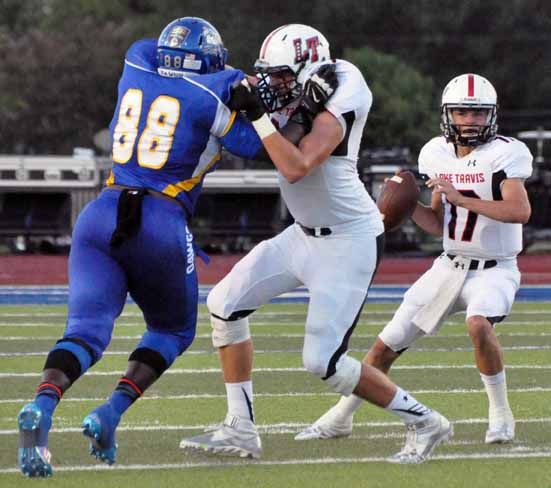 Quick facts: 5 things about Copperas Cove
Rebuilding or reloading
Copperas Cove has a rich tradition of fielding very successful, very talented teams that college coaches enjoy recruiting. In the last three seasons, Cove has sent 18 (2012), eight (2013) and 15 (2014) players on to college teams. On the flip side, though, that's a lot of talent for head coach Jack Welch and his staff to replace. Last year's team sent three players to major college programs: Manny Harris to UTSA, Jaylon Waters to Minnesota and Tyrell Thompson to Houston. In all, Cove must replace 14 starters, including dynamic quarterback Harris to compete for a playoff spot out of District 12-6A.
Playoffs or Bust
Since posting a 5-5 mark and missing the playoffs in 1997, the Bulldawgs have been an annual playoff participant. Under Welch's leadership, Cove has made the playoffs every year but once, in 2003 when a 6-4 mark left the team on the outside looking in. In the five years that followed that lone missed playoff season, Cove went 50-11 and reached the state semifinals three times. Welch took the Copperas Cove head job in 1994 and has had just one losing season – his second season – in his tenure.
NFL tradition
Welch has seen plenty of talent come through his locker room. Last summer the Killeen Daily Herald featured Welch's NFL alumni, which include Heisman winner Robert Griffin III, defensive back Charles Tillman, James Ritchey, Howard Hodges, Vontez Duff, T.J. Hollowell, Logan Brock, Josh Boyce and Brelan Chancellor. Chancellor served as an honorary captain for his alma mater during last year's meeting with Lake Travis. The Cavaliers spoiled his night, winning 47-16.
Rocky start
Cove opened the 2015 season with a 51-14 loss at A&M Consolidated. The Tigers blistered a young Cove defense for 618 yards of offense, including 354 yards rushing. Tyri Merchant rushed for 233 yards and two scores. Quarterback Mason Hickson threw for 264 yards and three more scores. Cove got 134 yards rushing from Antonio Lealiiee, but the experienced Tigers took advantage of Welch's young team. "We have an inexperienced team and to get them the level of how Bulldawgs play, you've got to see it," he told the Copperas Cove Leader-Press. "You can't replicate this in practice or with low-rate teams."
Size up front
Lake Travis coach Hank Carter said Cove's offensive line features a pair of talented linemen. J.P. Urquidez (6-foot-6, 300 pounds) has already committed to play at Baylor. He pairs with Alex Ramirez and they'll give fits to opposing defensive lines. They'll try to create angles for quarterback Caine Garner to get out on the edge, where he hopes to make plays. "We have to do a better job on the edge than we did [against Midway]," Carter said. "Their quarterbacks made some plays, and [Cove's quarterback] is more athletic than both of those guys."