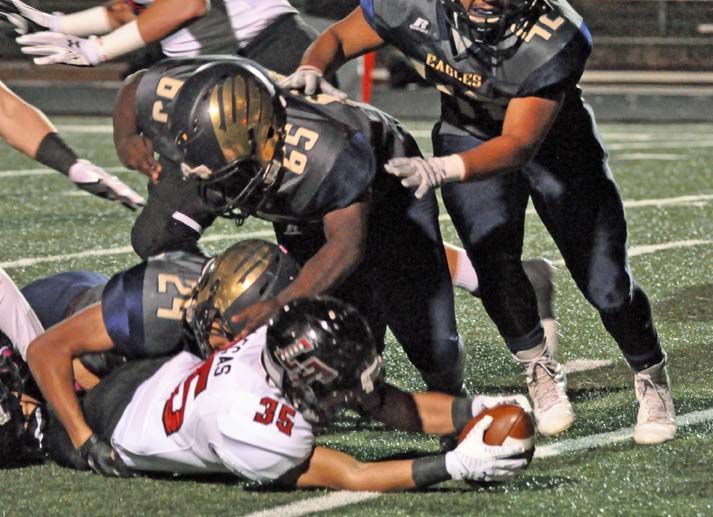 Pregame notes: Cavs on pace for several school records
Record setting season:
Don't look now but the Cavaliers are on pace to set school records for scoring and defense. The Cavaliers averaged 53.8 points per game during the regular season, well ahead of the school record pace of 49.3 points per game last year. The Cavaliers have also rushed for an average of 249.4 yards per game, bettering the current mark of 222.3 set in 2011. It's just the second time since 2006 that the Cavaliers have had more rushing yards than passing. Defensively, the Cavaliers are allowing just 10.1 points per game, down from the record of 14.2 set in 2009.
With his kickoff returns for scores against Austin High and Akins, Maleek Barkley becomes the first Lake Travis player with two kickoff return touchdowns in a season.
Playoff peeks
Lake Travis (5th) and Spring Westfield (8th) are the only top 25 teams from the latest Dave Campbell's Texas Football poll in Region II, and as fate would have it, they could meet in the second round. The Cavaliers are no strangers to tough Area matchups, having played Malcolm Brown's Steele team in 2009 and Johnny Manziell's Kerrville Tivy team in 2010. The Cavaliers lost in last year's area round to Spring.
Region II also has plenty of familiar faces with the potential for intriguing rematches. Should Lake Travis win its first two rounds, a third round matchup could feature either Highland Park or Waco Midway. Dallas Jesuit and Hendrickson or Spring are potential regional final opponents.
Best of the rest
Region I includes what might be the most intriguing first round matchup in any bracket. Two-time defending state champion Cedar Hill opens with perennial power Southlake Carroll. The winner will be favored to win the region.
Region III includes a quartet of ranked teams in Katy (2), Manvel (9), Clear Creek (13) and Fort Bend Hightower (21). A potential second round matchup includes Manvel and Clear Creek. Region IV features just one ranked team – unbeaten and third-ranked Steele.