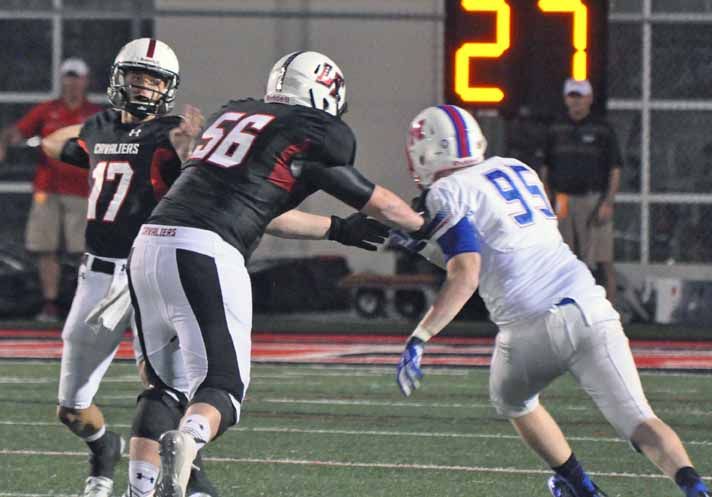 Past history means little to next Lake Travis-Midway meeting
Standing before his team with his daughter in his arms following the Cavaliers' 28-21 Area playoff win over Spring Westfield Saturday, Lake Travis coach Hank Carter told his team they'd meet Waco Midway next in the playoffs.
"I think we can handle that," he said.
While the Panthers may bristle at Carter's comment, the coach said Sunday he thinks his team won't be overconfident based on a 48-24 season-opening win at Midway.
"Our kids have a lot of respect for them so I'm not too worried about that, especially with them beating us last year," Carter said. "I want our kids to understand that if we don't play our best it could all be over."
Midway's 38-30 win over Lake Travis to open the 2014 season is all but ancient history, as is the Cavaliers' 48-24 win to open this season. If there's any similarity between the games, it's that the Cavaliers can empathize with how much Midway's relishing a second chance. The shoe sat on the other foot last year.
"Last year we were so excited to get back to the third round to play Midway and get our revenge game on them," Cade Green said last week.
Lake Travis missed its chance to get avenge the season-opening loss when it fell to Spring. Midway secured the chance at revenge with a 50-31 win over Highland Park. High-scoring Midway, in fact, has won nine straight games since dropping three in a row to open the season.
"They still scored a lot of points early in the season even when they were losing games," Carter said. "Their schedule was really tough."
As quarterback Sam Glaesmann settled into his role as the starter, the Panthers' offense soared. The 24 Midway scored in the opener against Lake Travis marks the only time they've scored less than 34 in a game. In a current nine-game winning streak, the Panthers have scored at least 40 points eight times.
"It's probably similar to what you see out of our defense," Carter said of his team, which took some time to settle in defensively with new starters. "Their offense has changed [from week 1]. They have learned what they want to do better."
Glaesmann has passed for nearly 2,800 yards with 29 touchdowns on the season and added 591 yards on the ground. Eric Clayburn, who rushed for 76 yards against Lake Travis in the opener, has rushed for 1,290 yards on the season. Joseph Ward has put up all-state caliber numbers as Glaesmann's top target. He's caught 93 passes for 1,477 yards and 19 touchdowns.
"Their coaches have got their kids playing well," Carter said. "I'm sure they'll be confident. It was a long, long time ago when we played them. Things are much different. Of course I'm going to contend that we are much better, too."
The Cavaliers enter with the confidence that comes from beating eighth-ranked Westfield, a team that featured all-state defensive tackle Ed Oliver and a number of Division I prospects.
"[Westfield] has got a lot of kids who are going to go on and play on Saturday and maybe even Sunday," Carter said. "Our guys, outside of the first drive, really adjusted to the speed and played well."
Charlie Brewer battled the wind and connected with Cade Green and Cade Brewer 10 times for 171 yards. Green had the big catch in the opener against Midway, a 77-yarder. Brewer had the big catch against Westfield, a 76-yarder to provide the winning margin.
"Cade Brewer's developing into a star right in front of us," Carter said. "Both Cades and Charlie made some huge plays, as did Maleek [Barkley]."
The trio has combined for 129 catches worth 1,875 yards through the air. They'll need to come up big again for Lake Travis to make the most of a return to Thanksgiving football.
"It will be fun," Carter said. "Any time you get a chance to play on Thanksgiving break it's an awesome thing."
Kickoff will be Saturday at 2 p.m. at Temple High School. Lake Travis last played in Temple during the 2013 season, beating A&M Consolidated for the Region II title on a frigid day. The game took place during the ice storm that blanketed most of the state. Saturday's forecast calls for mild temperatures and a 60 percent chance of rain.
"We just need to handle the weather better than the opponent," Carter said. "It affects us both."