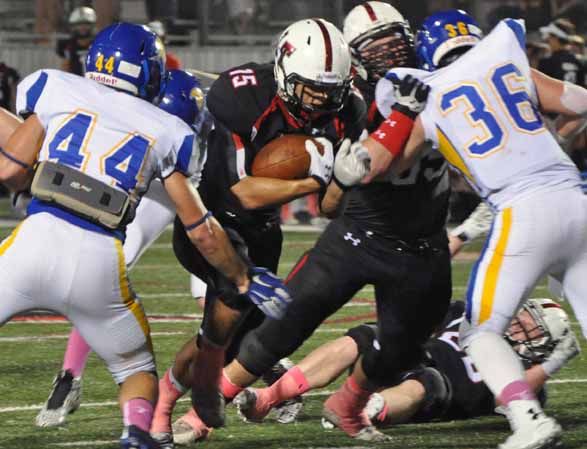 Five things: Anderson
Trojan Re-Group?
Anderson got off to a promising start this season, winning its first two games (against McCallum and Westwood). The Trojans hadn't won their first two games since 2011, when they beat McCallum and Hays. But after the fast start, Anderson needs to rediscover the winning form. The Trojans are winless in four district games, having opened with Westlake and Bowie before dropping closer decisions to Akins and Hays.
History with Lake Travis
Anderson's last win against Lake Travis came in the opener to the 2003 season. The Trojans ruined Jeff Dicus' Cavalier coaching debut in memorable fashion. After a back-and-forth game that ended tied at 31, Anderson took the ball first in overtime and scored. The Cavaliers matched the touchdown, but the try for two – and a potentially memorable win – came up short. The teams have met five times since. Lake Travis has won them all by an average score of 51-14, including 62-0 in 2013.
Storied past
Quick District 14-6A trivia question: Lake Travis has five football state championships. Which team ranks second? No, not Westlake despite the Chaps' long run of dominance. With four titles, all more than a half-century ago, the Trojans rank second. Anderson won it all in 1942, 1956, 1957 and 1962. Westlake (1996) and Austin High (1942) also have state championship trophies.
Recent struggles
After a stretch that saw the Trojans post winning records in four of five seasons, wins have been tough to come by. Anderson finished 6-4 in 2007, struggled in 2008 and rebounded with 6-4, 10-2 and 5-5 seasons in 2009, 2010 and 2011. The 2010 team started the season 5-0 and won a Bi-District playoff game, topping Westwood 17-14. It's Anderson's only playoff appearance since 2003.
Real deal
Anderson's spread attack is run by the quarterback with one of the best names in central Texas. Genuwyne Garza, a senior, has been the Trojans' most dangerous player. Through the air, Garza has passed for 780 yards and eight scores while rushing for 354 yards. James Baran has been his favorite target, catching 34 passes for 348 yards and four scores.