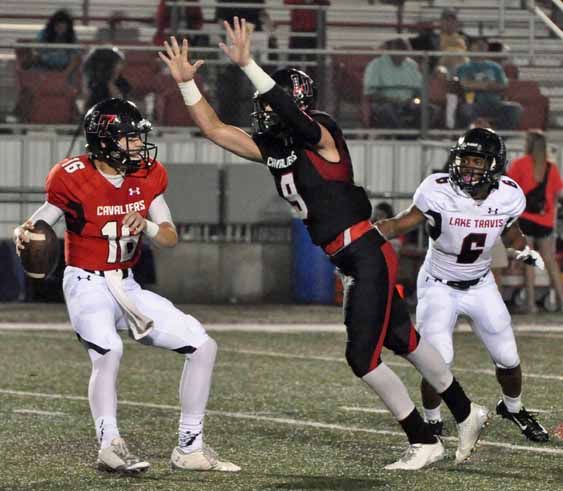 Defense thwarts offense in annual Spring Jamboree
Lake Travis fans saw what they wanted Friday night, an offense that can score from anywhere on the field and a defense that can wreak havoc with an explosive offense's plan.
In the annual scrimmage that wrapped up the Spring Jamboree, the starting defense got the best of the starting offense, holding them scoreless in one live quarter.
"I think both sides of the ball played great but obviously the defense got 'em," said grinning defensive tackle Tevin Paul afterwards.
Quarterback Charlie Brewer echoed his teammate's assessment, and not the least bit reluctantly either.
"We struggled a little bit," Brewer said. "We have a really good defense. We also have a really good offense but, yeah, they got the best of us tonight."
The defense held the offense to 75 yards on 21 plays in the quarter of action, which gave head coach Hank Carter both reason to smile and frown.
"I am happy and not happy every play," he said. "I thought the defense did some good things in that organized quarter. But at the same time I'm a little bit disappointed in how we executed at times offensively."
Still, Carter said, he saw plenty that shows him the Cavaliers are on the right track heading into the summer. Providing a few things fall into place and injured players return healthy, the foundation exists for a season that could stretch well into December.
"I think we have the makings of what could be a really special football team," he said. "We just have to put it all together."
First and foremost, the team must continue to work on its conditioning, something that Brewer and Paul both acknowledged as a top summer priority.
"We need to keep getting stronger, keep getting in better shape, keep bonding as a family," Paul said.
Paul anchors the defensive line that, along with returnees Garrett Womack (two sacks in the scrimmage), Sammy Ochoa, Jayden Hutchings and Corbin Pierce could give the Cavaliers one of the best pass rushes in the state. Carter said having players in peak shape and then keeping them fresh during the season will help.
"I think we need to be in better condition, but we can always be in better condition," Carter said. "That's the deal. When we are fresh, we have two guys especially whose pass rush is absolutely ferocious. But when we're not fresh, we rush like we're just a couple of guys. We'll get a couple of guys back in the fall and that will give us an opportunity to rotate kids through, which will be good, but we need to improve our conditioning for sure."
Offensively, the Cavaliers appear to have all the pieces in place for a dynamic offense. Eight different players caught passes throughout Friday's scrimmage – including during the organized series of plays prior to the live quarter. The line has Division I size from tackle to tackle. And Brewer returns after gaining valuable experience as a sophomore last fall.
"It was a really good spring overall," the quarterback said following the scrimmage. "From week 1 to week 4, we learned a lot both offensively and defensively. I thought a lot of our players got a lot better. We have a lot more ways to improve but I thought we made a few strides."
From his view, Paul likes the way spring wrapped up.
"We had a couple of ups and downs but overall I think it was one of the better springs we've had," he said. "Over my past three springs it was the best one we've had. I think we both looked really good and I think we're going to be really good next year."
Jamboree highlights:
Big play potential
Working against the back-up defense, the starting offense came out firing. In one stretch during their first series of plays, the offense scored on three consecutive plays, a 10-yard pass from Brewer to Cade Green, a 70-yard pass from Brewer to Maleek Barkley and a 70-yard run from Santiago Villegas. Giving Abe Willows a rest, Villegas' touchdown came on his first touch. He burst through a gaping hole on the left side and outran the defense down the sideline untouched. In all, the offense had 11 plays of 20 yards or more.
Stingy defense
Led by the front four of Paul, Ochoa, Womack and Jayden Hutchings along with some blitzes from rover Patrick Medina, the starting defense didn't allow a score all night, registering two interceptions and five sacks. During its work against the second offense in the two periods of play, the starters allowed just 49 yards on 21 plays. The two top defensive plays in the live scrimmage came when Medina sacked Brewer on a blitz and safety Robert-Lee Rayos broke up a fourth-down pass intended for Willows, colliding with the big running back and knocking the ball loose.
No love for the backup QB
Quarterbacks Brewer and Josiah Snowden wore red jerseys, telling the defensive players they weren't to be hit, but sophomore defensive end T.J. Simien, rotating in with the starters, couldn't avoid contact with Snowden. After coaches admonished him for hitting the quarterback's arm as he threw a pass, Simien said, "but he's the backup."
Unofficial stats
Combining every snap, Brewer completed 15 of 22 passes for 217 yards and three scores. Villegas netted 103 yards rushing on six carries, including the 70-yarder. Green and Barkley combined for 10 catches for 173 yards.
Fan coach
As part of the Spring Jamboree's silent auction, one fan won the honor of coach for a play. Scott Villareal told offensive coordinator Mike Wall he wanted to run a double pass. On the third play of the first series, Charlie Brewer flipped the ball to Willows, who threw downfield to Cade Brewer for an apparent 59-yard touchdown, though the on-field official ruled the first pass to be forward, not backward, making Willows' second pass illegal.
PPK
Looking for list of winners of the PPK by age group.
Jamboree Photos
Photos from Lake Travis' spring football jamboree.