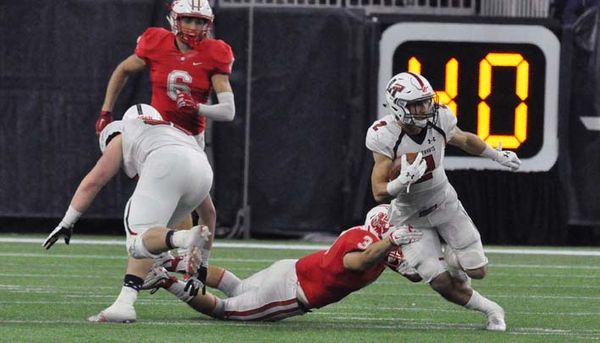 Cavs up, Cavs down
Cavs up
· Cade Green's 41-yard catch and run gets the Cavaliers off to a fast start only to be undone by an interception. Green's 7-catch, 116-yard performance is Lake Travis' bright spot on offense.
· Austin Hiller blocks a Katy field goal and then intercepts a pass deflected by Tanner Bush and Robert Lee-Rayos, leading to the Cavaliers' lone scoring drive of the night.
· Rayos comes up with his second interception of the playoffs to stop a Katy drive and returns it 30 yards.
· Needing a score to take life into the locker room, the Cavaliers put together a quick, four-play drive that ends with Charlie Brewer finding Cade Green for a score just 20 seconds before halftime.
· There's no substitute for experience, and Lake Travis' junior-laden offense gets plenty of it in Saturday's game. That should benefit the Cavaliers, who hope to make another playoff run in 2016.
Cavs down
· Katy's defense holds Lake Travis tight end Cade Brewer without a catch for the first time all season. Unable to find a favorite target, Charlie Brewer and the Lake Travis offense struggles against Katy's dominating defense.
· Lake Travis' offense proves unable to spring Maleek Barkley. Lake Travis' most explosive playoff weapon failed to gain positive yards on six of seven carries trying to get wide against Katy's defense.
· Time and again Lake Travis puts itself behind the chains by committing false start penalties. Lake Travis jumped five times on offense, including twice in succession before fumbling to set up Katy's first touchdown.
· Turnovers, a season-high four of them, doom Lake Travis. A fumbled snap, an interception on the opening drive and a pick-six led to the first 17 Katy points.