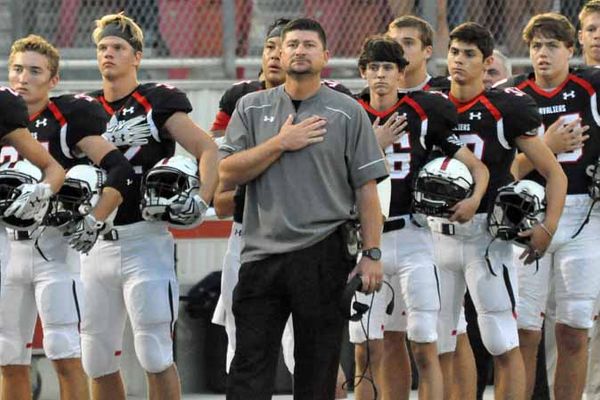 Bye gives high-octane Cavs chance to put on brakes
For a team that wants to play at warp speed, a bye week gives Lake Travis a chance to take its foot off the accelerator and take some time to – much to Del Valle's chagrin – fix the things that aren't quite clicking.
"We don't have a test this week," Lake Travis coach Hank Carter said Monday, "so we can really look at the areas that need to be improved and focus on that rather than having to prepare for an opponent. Really, this week is going to be about us slowing down and taking a look at just getting better at playing football."
That's bad news for the Cardinals, borderline nightmarish if the Cavaliers make the necessary improvements the way they did between a win over Copperas Cove and last week's win over Hays. Following a 56-13 win over Cove, Carter challenged special teams, especially the kickoff coverage teams, to improve.
How'd they do?
"I think in a lot of ways the kids that we challenged last week responded," Carter said Monday. "I think we improved on our kickoff coverage. I'm very impressed with what we did in the punt return game."
Kickoff coverage will be important, not just because Carter continually reminds his team that the 2014 season ended early in no small part because Spring returned a kickoff for a touchdown in the Area playoff loss. The coaches demand excellence on a unit that will get considerable action if the offense does its job. In three games, the Cavaliers have kicked off an average of nine times.
"Our kick coverage was awful," Carter said after evaluating the film of the Cove game. "We need to be able to kick it deep and know that our coverage can go down there and handle it. We have a kicker who can kick it to the goal line, even into the wind at times. We want the opponent starting behind the 30-yard line every time. It just wasn't good enough the other night."
Against Cove, the coverage team allowed the offense to start outside its own 30 six times, including once at the Lake Travis two following a 92-yard return. After a week of scrutiny, the kickoff coverage team did much better against Hays. On all eight kickoffs, Hays started inside its own 30-yard line, meeting Carter's standard. The Rebels' longest return of the night was just 21 yards.
While the players can't wait to take on another opponent, Carter and the coaches will relish the opportunity for more self-evaluation. There are, after all, other issues to address. The Cavaliers continually search for perfection, which is rarely attainable, which becomes all the more motivating.
"We just want to keep making progress," Carter said. "Really, we just want to keep getting a little better, continue to get better, continue to learn more."
So what's the learning going to look like this week? The defensive backfield gave up a long touchdown pass, and Carter wasn't thrilled that Hays broke a long punt return that set up a fourth-quarter score, so the punt coverage team will get an extra look. The Cavaliers don't punt often – between Hudson Fife and Charlie Brewer the Cavaliers have kicked the ball back to the opponent just eight times this year – but when they do, Carter expects coverage that will allow the Cavaliers to flip field position on a regular basis.
"Our punt team is something that as a coaching staff we're going to harp on to make sure that we can get better at that," Carter said. "We don't want a whole lot of practice at it, but it's a vital part of the game and we need to solidify that area."
Don't expect Fife to turn into Shane Lechler overnight, but if the punt team shows the same improvement the kickoff team did from the extra attention during the bye week, don't rule it out either.