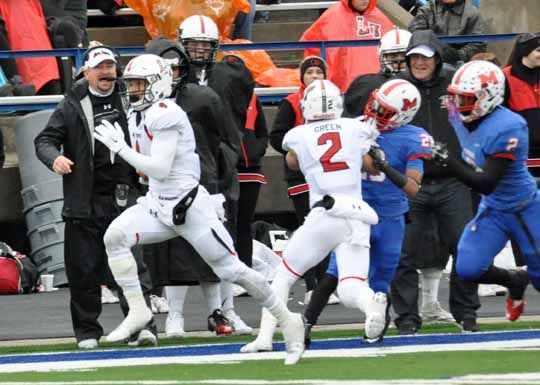 Barkley's big day buries Midway
A little more than halfway through the opening quarter Saturday afternoon in chilly, rainy Temple, Waco Midway had Lake Travis pinned back facing what appeared to be dire straits.
Leading 7-0 but following a pair of penalties, the Cavaliers faced a third and long from their own 3-yard line heading into a brisk wind. Charlie Brewer took the shotgun snap, danced back into his own end zone and then darted upfield as Midway's defensive backs chased Cavalier receivers across the field. Brewer scrambled for 18 yards and a first down, and the Cavaliers never looked back.
Three plays later, Brewer connected with Maleek Barkley for a 44-yard score, doubling the Lake Travis lead and setting the tone for the rest of the day.
"Wow," Lake Travis coach Hank Carter said of his offense. "They were awesome. It was a great performance."
When the dust settled, the Cavaliers topped the Panthers 55-14 to advance to the 6A, Division II, Region II final Saturday against Rockwall. The Cavaliers and YellowJackets meet at 2 p.m. at Kyle Field.
Brewer rushed for two scores and passed for two more. Barkley's touchdown catch was one of four he scored on the day. Working both as a running back and a receiver, Barkley rushed for 200 yards and three scores while catching passes for 71 more yards in a career-performance, one he'd been working toward.
"It definitely feels good," Barkley said. "I've been working hard this whole week, preparing for the game, trying to get ready."
Barkley's big day proved a combination of confidence meeting ability, Carter said.
"He got a lot of confidence last week with the way he performed against the competition we had from Westfield," Carter said. "He carried that confidence into today. And our kids blocked well."
Brewer agreed with his coach.
"I thought from snap 1 until the end that the offensive line played a great game, and that allowed Maleek to get out in space and use his speed," Brewer said.
With the line blocking well, Brewer said the more Barkley got the ball, the greater the odds he'd make big plays. He paid off with touchdown runs of 71 and 31 yards to go along with a 44-yard touchdown catch.
"I think that when you give an athlete multiple ways to get the ball, nothing but good can happen for us," Brewer said. "We put him at receiver and throw him some passes. We put him in the backfield and hand him the ball. More touches to one of your good athletes is a good thing."
Barkley's fast start gave Lake Travis a 14-0 lead. Midway rallied to cut the lead to 20-14 in the second quarter before the Cavaliers scored the game's last 35 points. Brewer connected three times with Cade Green following Midway's second score, and Santiago Villegas bulled his way for 39 yards to the one, setting up Brewer's second touchdown run. When the Panthers failed on a fake punt, Villeagas capped a 62-yards drive with a short touchdown run that followed Brewer's 28-yard run on third down.
Cade Brewer caught a short touchdown pass in the third quarter and Barkley added two long touchdown runs to close the scoring.
In all, Lake Travis outgained Midway 638-297 with 426 of those yards coming on the ground. Brewer and Villegas rushed for 98 yards each. Brewer also completed 17 of 23 passes for 212 yards.
Clayburn led Midway with 109 yards rushing on 25 carries. Joseph Ward caught nine passes from Sam Glaesmann for 108 yards. Midway managed just two first downs after halftime.