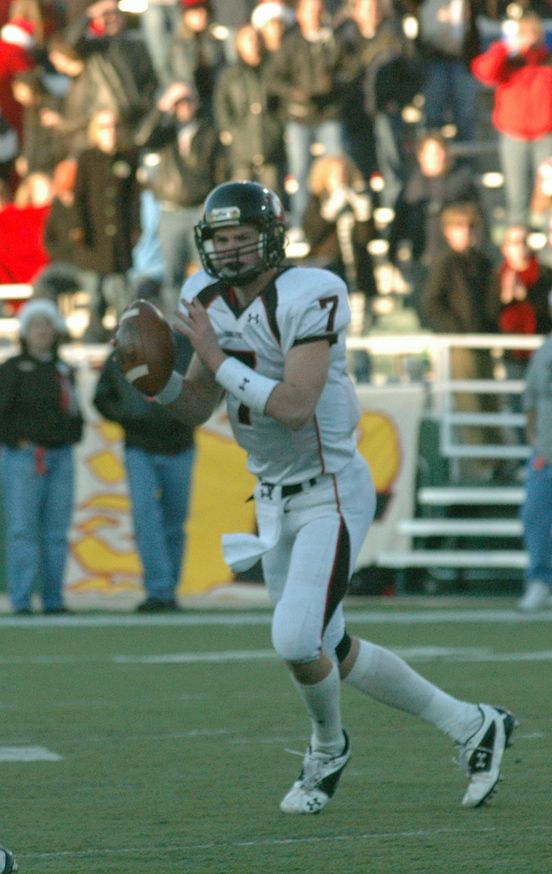 Gilbert drafted by St. Louis Rams
May 12, 2014
Sometimes the journey can be as important as the destination. Just ask Garrett Gilbert.
The former Southern Methodist, Texas and Lake Travis quarterback saw a lifelong dream become a reality Saturday when the St. Louis Rams selected him in the sixth round of the NFL draft.
"I was pretty dang excited," Gilbert said Sunday from his family's home in Bee Cave. "I had been paying attention to the Rams picks because they had been one of the teams that seemed interested in me during the process. I knew they had a compensatory pick. I didn't know what that meant, but it turned out to be pretty exciting."
Gilbert had watched nearly all of the draft coverage Saturday but said he decided that he didn't want to watch every pick hoping to see his name or hear his phone ring.
"So at some point I went in the other room and watched The Players Championship – I really like watching Jordan Spieth," he said. "But then Rams GM Les Snead called and put Coach Fisher on the phone and he asked if I wanted to be a Ram."
Watching alongside his parents, brother, girlfriend and a handful of friends, Gilbert said the celebration consisted more of low-key congratulations all around than unbridled joy.
"Everyone had a good little moment and had some fun," he said. "We celebrated for the rest of the evening. We ordered pizzas and just hung out, made a fire outside. It was a pretty typical family celebration for us."
Gilbert took congratulatory calls from some of his former SMU and Texas teammates and received many texts and voicemails throughout the evening.
"A lot of people around Lake Travis sent some really nice texts and left nice voicemails," he said Sunday. "I talked with [Lake Travis] Coach [Hank] Carter a little bit. It was fun to share this with a lot of different people."
Gilbert becomes the first Lake Travis player drafted into the NFL. Two others, offensive lineman Robert Turner and Gilbert's Lake Travis teammate Trevor Gillette, signed as free agents. Turner, a 2002 Lake Travis graduate, has played for the Jets, Rams and Titans during his career. Gillette, a Rice graduate, signed as a long snapper with Jacksonville on Saturday.
Gilbert's selection is the latest step in what the former Lake Travis star calls a roller-coaster of a career. He peaked at Lake Travis, leading the Cavaliers to the first two of their five consecutive state championships, earning Gatorade National Player of the Year honors as a senior and becoming the state's all-time leading passer. He went to Texas as the heir apparent to Colt McCoy only to hit rock bottom. He transferred after an injury early in his junior season and rediscovered himself at Southern Methodist.
It's been a long and winding road, and Gilbert doesn't regret a minute of it, good, bad and ugly.
"The best way to describe my college career is that it was a roller coaster," he said. "But at the same time I wouldn't trade it for anything because it's gotten me to where I am today."
The eyes of Texas fans expected him to continue the string of success made commonplace by his predecessors – Vince Young and McCoy, and as his freshman year progressed, Gilbert looked ready to take his place in line. He jumped in at Texas and earned the back-up quarterback job and everything that came along with it. Fans only remember Gilbert being thrust into the spotlight early in that national championship game. He remembers that, and much more.
"Obviously that sticks out," he said, "but learning as much as I did from Colt, winning the backup job that first year and really being thrust into a position of leadership as a freshman. That's something I really feel like I learned a lot from. Coach [Greg] Davis' offense is really a pro-style offense, so having to learn that at 18 years old was really great for me."
Losing the championship game to Alabama hurt, but not as much as what followed. A "perfect storm" led to a disastrous season the following year. Gilbert guided Texas to a less-than-dominating 3-0 start before the wheels started coming off. In a home loss to UCLA, Gilbert threw an interception and lost two fumbles. Then came three more interceptions and a fumble in a shocking home loss to Iowa State. Rock bottom arrived in a five-interception performance at Kansas State.
"That sophomore year when we went 5-7, it was basically the perfect storm for that 10-win season streak to end," he said. "I think we had a little bit of a national championship hangover, so-to-speak, in terms of being so close. I'm not sure we'd had the best off-season. And I made a lot of young mistakes. I think all those things led to that perfect storm. It helped me to grow up a lot for sure. It was tough at the time."
The following season didn't start much better. Gilbert threw two interceptions against BYU before getting replaced following a chorus of boos from the home fans. After a high school career all but devoid of adversity, Gilbert learned early and often how to push through as a Longhorn.
"That was a season where I grew up a whole lot," he said. "Being able to push through adversity both my sophomore and junior years at Texas whenever things really weren't going my way."
Gilbert saw the writing on the wall. Dropped behind both David Ash and Case McCoy on the depth chart, then diagnosed with a torn labrum, Gilbert opted to leave the program, have surgery to repair the injury – earning a medical redshirt in the process, and took 27 hours of classes to graduate at the end of that year. He transferred to SMU, where he had two years to salvage his football reputation and chances at a pro career.
But the adversity followed Gilbert to SMU, too. The Mustangs struggled early in Gilbert's junior season, capped by a disastrous game against rival Texas Christian.
"Taking a year off from football, I wasn't quite sure what to expect when I got to SMU, and we sort of struggled out of the gate," Gilbert recalled. "I don't think it was because I was mentally doubting myself, because I had really learned a lot from that year off, watching some of the best quarterbacks play every Sunday and Saturday. I had really learned a lot and gotten to the point where I felt confident in myself. It just took a little bit to get comfortable within our offense because it is a very complex offense. Then you have a game like the TCU game where you throw five interceptions and really a lot of things didn't go right for me personally or for us as a team."
If Gilbert flashed back to those dark days at Texas, SMU coach June Jones didn't. Gilbert still remembers what happened after that five-interception game against the Horned Frogs vividly.
"I show up on Monday morning for running and Coach Jones keeps me out on the field after, and there's a chance that it becomes kind of a here we go again type thing," Gilbert said. "And he completely flipped that on its head and said he had all the confidence in the world in me, that I'm their guy and that he thought he saw me really learning and just playing instead of hesitating out on the field during that game. I'm not sure it was a light bulb moment, but it was a very important moment in terms of just letting things go and playing. And I think it really showed on the field."
From that point, though, fueled by Jones' confidence and his growing familiarity with the offense, Gilbert steadily improved and guided the Mustangs to a bowl berth.
"I think Coach Jones did such a great job, does such a great job of giving me incredible confidence early on in my career at SMU even when we did get off to a little bit of a rocky start," Gilbert said. "He was very positive the whole time. He never wavered and always showed confidence in me."
After throwing 13 interceptions in his first seven games, he went five games without one. Over his final seven games, he completed 57 percent of his passes with eight touchdowns and four interceptions. He also used his legs and had three games where he rushed for at least 94 yards, including a 111-yard effort that helped SMU become bowl eligible by beating eventual Conference USA champion Tulsa.
As a senior, he looked more like the quarterback who led Lake Travis to back-to-back state titles while becoming Texas' all-time leading high school passer. In 10 games before a knee injury ended his season, Gilbert averaged 352.8 yards per game and completed 66.5 percent of his passes. He threw 21 touchdown passes and just seven interceptions – four of which came against TCU.
"It felt like [I was playing like I hadn't played in a long time]," he recalled. "Things are going to happen out on the field. You just have to shake them off and keep going."
He earned American Athletic Conference player of the week honors three times, including following 538 yards passing with four scores and 97 yards rushing with another pair of touchdowns in a 59-49 win over Temple.
"I learned so much from them about the quarterback position during my two years at SMU," he said. "This whole experience, while it wasn't the way I would draw it up coming out of high school, I wouldn't trade it for anything now."
Now, Gilbert is off to St. Louis to meet his new team. As he spoke Sunday afternoon, having spent draft weekend at his family home in Bee Cave, he packed for a flight Monday morning. He knows the Rams have an established starter in Sam Bradford, the former Heisman Trophy winner at Oklahoma. Veteran free agent Shaun Hill signed as well. Gilbert doesn't so much see competition for a job as another chance to learn how to become a better quarterback.
"Obviously the Rams have an established starter in Sam Bradford and just signed Shaun Hill to a free agent contract, so I'm excited to go in and learn from two veterans," he said. "I like a lot of what the [offensive coordinator Brian Schottenhiemer] and [quarterbacks coach Frank Cignetti] were telling me when they came [to SMU] and worked me out."