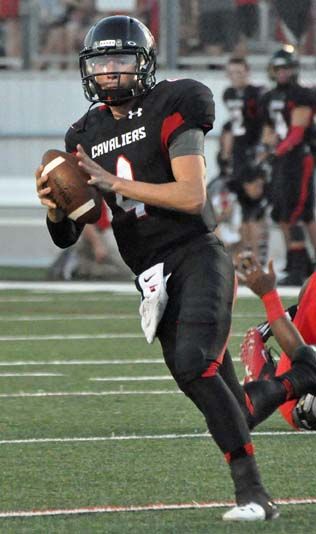 Football preview: Five things to watch
1. With his scholarship offer in hand, how will Dominic DeLira lead the offense?
In his first year as the Cavaliers' starting quarterback, DeLira had the luxury of TCU running back Shaun Nixon as a security blanket. When Lake Travis needed a big play, Nixon got the ball. Now, with Nixon in Fort Worth, DeLira, bound for Iowa State, emerges as the leader. Can he continue his development and lead Lake Travis with new players thrust into key roles? Senior Grant Foster returns as Lake Travis' most experienced receiver. He's got 48 career catches in two injury-riddled seasons. After those two, not many skill players have touched the pigskin on Friday nights. Junior Abe Willows figures to touch it the most, taking over at running back, but his next carry will be his first.
2. Speaking of Willows, can he provide a solid ground threat to keep defenses from blitzing DeLira time and time again?
No one expects Willows to pick up where Nixon left off, though coaches maintain he would have started at running back last year anywhere else in District 15-5A. Nixon graduated as the school's all-time leading rusher with nearly 4,000 yards in his three varsity seasons, including 1,747 last season. They are two very different players, and Willows gives the Cavaliers a different look. He cuts off zone blocking very well and impressed with his ability to catch the ball out of the backfield this spring and in 7on7. And while he may not have Nixon's breakaway speed, coaches say he'll be tough enough to catch from behind.
3. Tevin Paul looks the part. Can he be Lake Travis' next dominating defensive lineman?
Lake Travis' largest – and most promising – defender is just a junior. Last season as a sophomore, the 6-4, 240 pounder rotated between defensive tackle and end, making 28 tackles. Half of those came behind the line of scrimmage, including seven sacks. With the size to take on blockers inside and speed to rush off the edge, Paul – now bigger, stronger and faster as a junior -- will again play all over the line though he'll start at end opposite senior Feno Pearson. When he moves inside, will he be the next in a long line of disruptive Lake Travis defensive linemen following – most recently -- Zach Davies, Brandon Quinterro, Jude Jeffress, Jonathan Roberts, Todd Perry and Matt Kuenstler?
4. State championship rematch in season opener
Provided Lake Travis lives up to expectations and positions itself for a deep playoff run, realignment has made for some interesting scheduling possibilities. With nine teams in District 14-6A, Lake Travis needed to find just two non-district foes. One is familiar – Waco Midway. The other, Copperas Cove, reaches the playoffs every year as well. The Cavaliers beat Midway 22-7 to win the 2011 4A, Division I title, the school's fifth in a row. They'll open the season at Lake Travis Aug. 30. Nothing like jumping into the season with both feet.
5. Look at Region II
While Lake Travis opens the season with Midway and then Copperas Cove, the teams could also meet again. In fact, should the Cavaliers find early playoff success, the possibility exists that they could meet another championship game opponent. Highland Park, new to the state's highest classification, has been placed in Region II as well. Lake Travis has typically had success playing teams a second time in a season. Last year the Cavaliers beat Westwood twice. In 2010 and 2011 they won rematches against Cedar Park and won both regular season and playoff matchups with Killeen in 2008. An early mock playoff bracket has Midway and Highland Park meeting in the Area Playoffs with the winner potentially meeting Lake Travis in the third round. The Cavaliers and Scots played a thrilling title game in 2007 with Lake Travis winning 36-34.