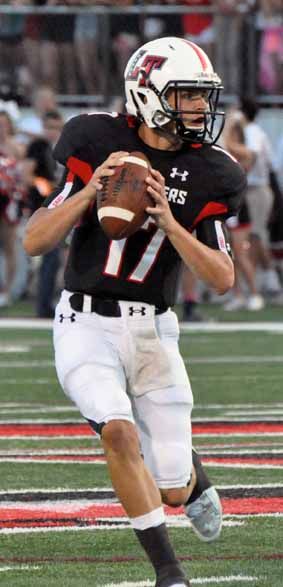 Quarterback situation still unclear as Cavs head to Cove
As Lake Travis prepares for Friday's trip to Copperas Cove, it does so once again without quarterback Dominic De Lira.
The senior missed Friday's season-opening loss to Waco Midway and figures to miss the next two games as well, according to sources around Lake Travis. Several projected starters missed Friday's opener as well. Senior safety Chris Roller and senior receiver Grant Foster did not play and, like De Lira, were not on the sidelines. Junior cornerback Tanner Bush, senior defensive back Paul Hatch, and senior receiver Jordan Markim missed the Midway game as well, but they watched from the sideline with teammates.
When asked about players who were not at Friday's game, head coach Hank Carter did not mention names.
"The athletic department and I decided that several players would not play based on circumstances that happened off the field that I cannot talk about," he said.
Sources at Monday's practice confirmed that Foster and Roller both participated and practiced with the first team offense and defense, respectively, usually a sign they will play in the upcoming game.
The situation has been ongoing throughout the team's fall practices. De Lira's absence has drawn the most attention. While he has practiced, he has not taken a starter's share of reps with the first team offense. Sophomore Charlie Brewer and junior Kevin Hathaway have worked with the first team, and Brewer made his varsity start Friday against Midway.
After throwing for 306 yards – tops among 6A quarterbacks in Central Texas and most a Lake Travis quarterback has amassed since Baker Mayfield torched Judson for 410 yards to open the 2012 season – Brewer figures to start again this week, but the sophomore isn't thinking any longer than that.
"I'm going to go day by day, do my thing and get ready every week," he said. "I need to play and not look forward, just do what I need to do every single day to get ready for each single game."
When asked about the quarterback situation Tuesday, Carter talked broadly about Brewer and Hathaway and the need for each to compete in practice to win the job. While he didn't mention De Lira by name, he spoke about the overall depth at the position and how, as with other positions, he's seeing less and less separation between the listed starter and those battling behind him on the depth chart. less and less he's seeing a clear-cut starter.
"That's one of the things that's different about our program right now…at quarterback we're seeing it a little bit, but we're seeing it throughout the program," Carter said. "There's not as big of a difference between the next guy and the starting guy. So practice means a lot."
De Lira continues to be listed atop the depth chart, and Carter's message to Brewer and Hathaway has been "win the job." While Brewer started against Midway and will start against Copperas Cove tomorrow, nothing's been decided past that point, the coach said.
"We've told him and Kevin both to go out there and win the job," Carter said. "Prepare to be the starting quarterback. Charlie has had the edge to this point. But we feel comfortable playing Kevin too. As far as the duration, we tell them to go out and compete every day."
While Carter hasn't said as much, the general sentiment is that De Lira will return to the starting lineup whenever his apparent suspension wraps up. If the suspension carries on to the Sept. 12 game District 14-6A game at Hays, a logical point to re-insert De Lira comes on Sept. 26 against Lehman. Lake Travis has its bye week Sept. 19, and without an opponent to prepare for the Cavaliers would in essence have another training camp in which the senior quarterback could quickly reintroduce himself to the starting offense.
On Tuesday, though, Carter said the Cavaliers will play whichever quarterback gives them the best chance to win.
"I can tell you that we're always going to go with the hot hand," he said. "I think that's the right thing to do. That being said, the guy who gives us the best chance to win today and the guy who gives us the best chance to win tomorrow may be different guys. Down the road, we are going to play the guy who is playing winning football at the quarterback position."