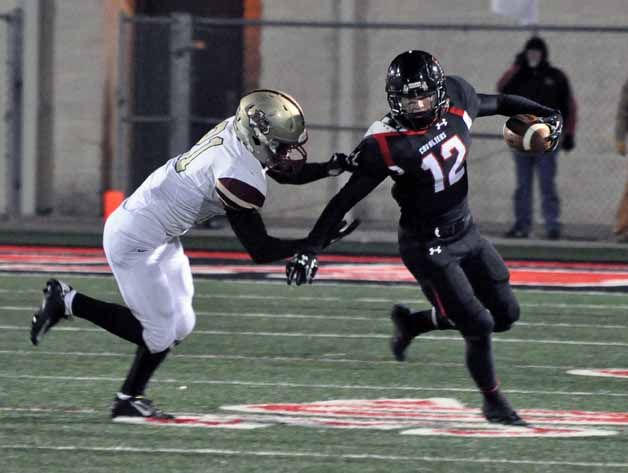 Cavaliers play Roller derby to rout Raiders
If offense sells tickets and defense wins championships, then what do special teams do?
At Lake Travis, they might just make an already great team, well, special.
"It's a game changer," said senior safety and return man extraordinaire Chris Roller following the Cavaliers 54-7 Bi-District playoff rout of Rouse Thursday night. "We feel like if we can take a punt to the other side of [midfield], that's a game changer. It gives our offense a chance to score."
That is, when he doesn't score himself. Roller returned a punt 52 yards for a touchdown – his second punt return score in as many weeks and third on the season – against Rouse. While Roller's 60-yard return score against Akins came on a designed return, the touchdown against Rouse came when he fielded a short punt on the run, made a tackler missed, got to the sideline and outran the pursuit for the score. He credits his blockers.
"My guys, they block well," he said. "I think we practice this more than any other team, so…"
On the season, Roller averages a gaudy 19.2 yards per punt return with three scores. Though he's had two kickoff returns called back, he changes the field each time he gets his hands on the ball, averaging nearly 47 yards per kickoff return. Because the Cavaliers don't allow many scores, Roller doesn't get a chance to return kickoffs. He's only gotten his hands on six of them.
While the Cavaliers also surrendered a long punt return against Rouse, head coach Hank Carter likes the way the unit has played all season.
"The way our special teams has performed has been fantastic and I want to keep building on that," he said leading up to the playoff opener.
Officially, Roller's longest kickoff return stands at 82 yards against Hays. He's also had two kickoff return touchdowns called back due to penalty, once against Austin High and last night against Rouse, when a holding penalty negated a 92-yard return on the opening kickoff.
"We've got to work on those penalties," Roller said with a smile.
While Roller excels at safety for a team that allows just 12.8 points per game, like every player who grew up watching Lake Travis' high powered offenses score at will during the school's championship run, he longs to have the football in his hands, just like the good ol' days, when he toted the rock as a middle schooler.
"I used to play running back in middle school, and now, whenever I get the ball I'm running like it's the last time I'm going to get the ball," he said. "Nothing compares to running with the ball."