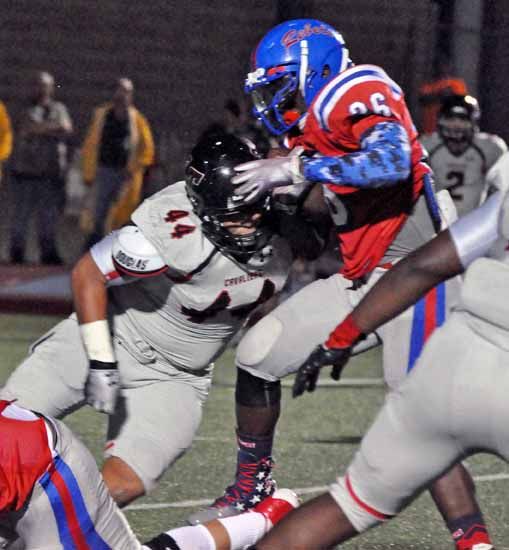 Cavaliers look for continued improvement as Anderson comes calling
As the Cavaliers continue to make their way through the lower half of the District 14-6A standings, head coach Hank Carter says each week, no matter the opponent, gives his team another chance to get better.
"We're constantly trying to get a little bit better, fix some things that showed up in some areas," he said Tuesday as his team transitioned from a 51-14 win over Lehman to preparing for Friday's game against Anderson.
The coach noticed a few things his team could improve on following that win over Lehman, though he didn't get many chances to see his team execute thanks to an over-exuberant clock operator who ran the clock when it should have been stopped in the first half, thus shortening the game considerably and limiting the chances both teams had to run plays.
"The game went so fast we didn't get as many reps because they were running the clock," Carter pointed out. "The flow of the game was strange because of the way they were running the clock, but that wasn't all of it."
In addition to the clock, Lehman ditched its regular passing attack and went mainly with a power running game. The Lobos learned prior to the game that starting quarterback Jeremy Schilhab, who'd amassed more than 1,500 combined rushing and passing yards, wouldn't play. Running back JR Torres started at quarterback and the Lobos didn't try their first pass until midway through the second quarter. That, Carter said, kept the Cavalier defense from firing on all cylinders, though he also said the defense played well enough.
"Overall we played pretty good defensively except for about two plays," Carter said. "We had some linebacker fits that weren't quite right and I think our front four regressed a little bit, but all of the running [Lehman] did takes away some of our aggression because we're not able to go rush the passer, but we have to do better than that."
The Lake Travis defense should get plenty of chances to use its aggressiveness against Anderson (2-4, 1-3 in District 14-6A). Under first year head coach Jeff Rhoads, who most recently served as offensive coordinator at Westlake, the Trojans haven't been afraid to throw the ball around the field.
Senior quarterback Kirby Hill completes 55 percent of his passes and has thrown for 827 yards and eight scores. Eleven different receivers have caught passes and six different receivers have scored. It's a challenge Carter welcomes for his secondary, which hasn't had to cover too much in wins over run-first Del Valle and Lehman.
"I'm excited for the looks that our secondary is going to get with someone throwing the ball," Carter said. "We need to work that. It's an area we need to improve upon. Hopefully we'll go out, play clean and execute our stuff."
Carter pointed out that Lehman's first score came when it forced the issue against the Cavalier secondary.
"Defensively, we had a couple of plays in the secondary," Carter said. "We had an interference call, we let them complete the double pass and then they caught the touchdown pass on us, so those are things we're looking at."
Part of the pass coverage will depend on the defensive front, which Carter wants to see reestablish itself and keep Hill uncomfortable. The Cavaliers have developed a six-man rotation thanks to the versatility of some key players. Tevin Paul can play both tackle and end, as can Jayden Hutchings, who might slide outside when sophomore linebacker Sammy Ochoa moves up to take snaps at tackle. They team with Feno Pearson, Garrett Womack and Corbin Pierce to make sure the line remains fresh as it attempts to pressure quarterbacks.
When Ochoa rotates on the defensive line, Jason York steps in at inside linebacker, teaming with John Brewer and James Bailey to attack the edges and help stuff the run, depending on the call from Carter and coordinator Randall Edwards.
Though just a sophomore playing his first season of varsity football, Ochoa said he enjoys the challenge of learning to play multiple positions.
"It's a pretty good challenge, but I always like a challenge," he said. "It motivates me more. It's very rewarding when you actually get it down, play it in a game and make good things happen."
And he has. In five games Ochoa's made 31 tackles including four in the backfield with three sacks.
Ochoa's ability to learn both spots has been crucial to the front seven's versatility – and success.
"He's a very powerful, fast kid who plays extremely hard and cares a lot about it," Carter said of the sophomore linebacker. "I'm very proud of him because he's got a lot on his plate, learning two spots being a sophomore, but he's handled it well and he gets better every single week. Those young guys, their level of improvement is [snaps fingers] fast."
And as the Cavaliers approach their sixth game, Carter hopes that continued improvement means there's still the better part of 10 weeks still to play.