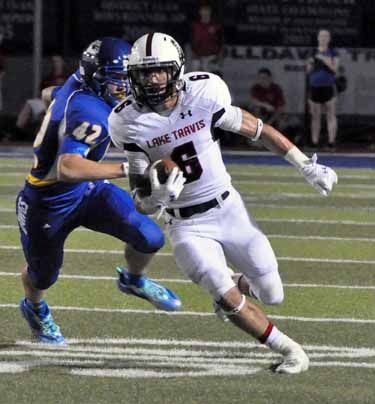 Brewer, Green lead Cavs past Cove, which loses star QB on game's second play
Lake Travis' defense expected a stern test Friday night from a high-octane, high-powered Copperas Cove offense led by Texas-San Antonio bound quarterback Manny Harris.
The test never materialized. Harris suffered a knee injury on the game's second play, Cove's offense sputtered without him and Lake Travis took full advantage, taking leads of 23-0 and 47-9 before winning 47-16.
"We were a little worried [defending him] but we also knew he wasn't anything that we hadn't seen before," said confident Lake Travis senior safety Chris Roller, who made his season debut Friday night. "When he went down, it was a confidence booster for us. We knew he was the key to them having a chance."
Sophomore quarterback Charlie Brewer led Lake Travis, throwing four touchdown passes on the night despite facing constant pressure from Cove's athletic defensive line, Brewer stood tall and passed for 243 yards and three scores while leading the Cavaliers to a 23-6 halftime lead. Brewer added a fourth quarter touchdown pass to Colton Bailey and finished with 322 yards on 16 completions without an interception.
"Charlie got hit for the first time in the pocket some, and I think he performed admirably and handled himself well," head coach Hank Carter said.
Brewer avoided pressure early and made the Bulldawgs pay. He scrambled before finding Hudson Fife for a 46-yard score and later withstood a blitz on third and long to hit Cade Green on an 88-yard score in the second quarter. Green said Brewer executed like a grizzled veteran.
"I had a little beater route across the middle of the field and I saw that there was no safety there and they were spread wide," the sophomore receiver said of his classmate QB. "I knew that Charlie knew that he was going to come to me, and I just had to get into a seam and that he would put it on me. Charlie threw a perfect ball, put it on me and I did the rest."
Green proved Brewer's favorite target, catching nine passes for 166 yards and two scores. Without Harris, the Cavalier defense took advantage of Michael Hays, the Cove backup forced into action. Carter said Cove stuck with its spread attack, and while Hays eventually found some rhythm, he couldn't lead Cove back against a defense energized by Roller's – and senior Grant Foster's – return. Both had missed the opening loss against Midway for disciplinary reasons.
Roller said missing the season-opener proved excruciating.
"It was really hard," he said. "I didn't attend the game. I listened on the radio. From the first kickoff I was just …. [mad]. I couldn't deal with it. [Friday night] it just felt good to be back with my boys."
"It was an instant jolt of energy and confidence to the rest of our kids because they know what kind of players those guys are," Carter said. "It was great seeing them out there."
Both made key plays. Foster, playing both offense and defense, had two catches and a two-point conversion. Roller delivered a key defensive play, intercepting Hays after he had driven Copperas Cove into Lake Travis territory early in the third quarter. Roller jumped a route, intercepted a pass and returned it 90 yards for a momentum-killing touchdown.
"I was playing over the third receiver and I saw him break," Roller explained. "It turned out that he was trying to run a double move but the quarterback thought he was running a slant. So I kind of jumped the slant and he threw it right to me."
On Cove's next possession, Foster – who also started at cornerback – picked off a pass and returned it 30 yards for a score, but officials flagged him for interference, negating the play.
Lake Travis also got a breakout performance from sophomore linebacker Sammy Ochoa, who rotated between linebacker and defensive line and registered sacks on back-to-back plays late in the game.
"Sammy did a great job of getting down there, putting his hand on the ground and coming off the ball in passing situations," Carter said. "I think he's going to continue to get better and better at that, and he's a tough match-up. He's an extremely powerful kid. He probably weighs 250 pounds and he runs really well."
Lake Travis (1-1) opens District 14-6A play Friday at Hays Consolidated.