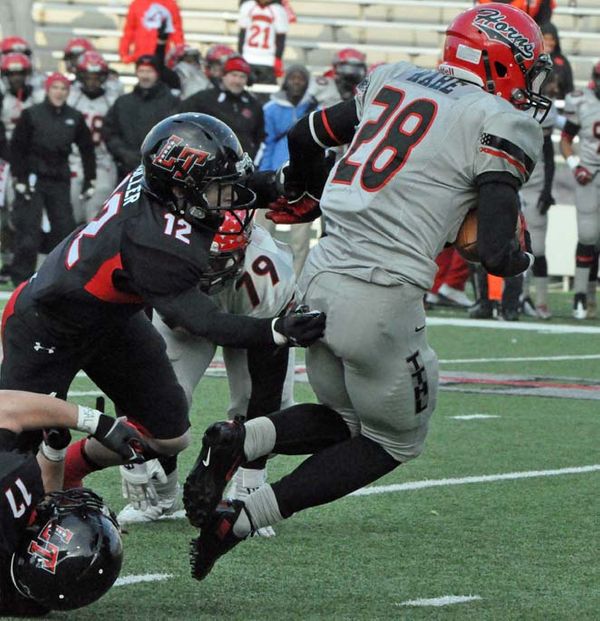 Ware helps Cedar Hill wear down Cavaliers
Lake Travis head coach Hank Carter talked about it following his team's 21-7 win over A&M Consolidated the week prior.
On a frigid and windy day in Temple, the Cavaliers all but eschewed their storied passing attack and ran the ball at the Consolidated defense time and again. Time and again Shaun Nixon gained yardage. He never broke a big one, but the cumulative effect of the Cavaliers' constant running took its toll on the Tigers. They knew the Cavaliers were going to run, and they couldn't stop it.
"We made some plays in the passing game, but we knew that we were going to have to run it against a front that knew we were going to run it," he explained. "When you can do that, man, you have a big advantage because you can impose your will on the other team. What starts happening is that when you are able to line up and run it on them and they can't do anything about it, that affects the whole sideline over there. It really dashes their hopes and confidence and bolsters ours."
A week after Lake Travis imposed its will to end Consolidated's season, the Cavaliers saw the scenario play out again against Cedar Hill in the 5A, Division II state semifinal at Floyd Casey Stadium. Only the shoe landed on the other foot.
Trailing 10-6 with just 10:31 remaining in the fourth quarter, Cedar Hill found itself in possession at its own 9-yard line following a 25-yard punt from Dominic De Lira. With the wind at their back, the Longhorns decided they would try to run their way into another championship game.
Cedar Hill coach Joey McGuire called 12 straight running plays and the Longhorns marched from their own nine to the Lake Travis 13, largely riding the churning legs of Aca'cedric Ware. He carried it seven times on the drive, including three straight runs of at least 14 yards. The drive nearly stalled at the Lake Travis 30, but receiver Damarkus Lodge took a direct snap and gained five-and-a-half yards on fourth and five.
After a dozen runs, the Longhorns finally tried a pass, and it worked to perfection. Justin McMillan lofted a fade to Lodge, who leapt and snagged the go-ahead score despite tight coverage from Lake Travis' Chayce Pannell with 4:51 left.
Trailing 13-10 and needing to drive into the wind to keep its championship game hopes alive, the Cavaliers went the wrong way. After reaching their own 33, the Cavaliers got flagged for holding, lost four yards when De Lira got sacked and lost eight more when Nixon couldn't get free after catching a screen pass. Facing fourth and 28 from their own 14 with just one timeout and little more than 2 minutes left, Carter had no choice but to try for the first down rather than punt.
Nixon caught a short pass from De Lira and gained only half of what he needed. Three plays later, Ware put the game out of reach by scoring from 22 yards out, and the Longhorns won 19-10.
Running behind a large and talented offensive line and kept largely fresh by splitting carries with Larry Hill, Ware gained 90 yards on 10 fourth quarter carries and finished with 187 yards on 23 carries. By contrast, Lake Travis' standout Shaun Nixon found little to no running room the longer the game progressed. He finished with 60 yards on 23 carries but managed just 21 yards on his last 19 carries after scoring from 32 yards out midway through the opening quarter to give the Cavaliers a 7-6 lead.
After a scoreless second quarter in which the Cavaliers sacked McMillan four times, the Cavaliers had a chance to gain some separation to open the third quarter. The Cavaliers started the half at the Cedar Hill 46 yard line after the Longhorns roughed Grant Foster as he fair caught the kickoff. Completions from De Lira to Dominic Packer and Nixon moved the ball to the Cedar Hill 18 where the drive appeared to stall.
Dylan Tracy appeared to kick a 35-yard field goal on fourth and one, but Cedar Hill called time out prior to the snap. With time to think, Carter decided to go for the first down and Nixon converted, pushing the Cavaliers to the 16. Packer got open in the end zone but couldn't stretch tall enough to grab De Lira's pass and the Cavaliers settled for a 40-yard field goal from Tracy for what would be their final points.
Defenses ruled the rest of the quarter until the Longhorns put together their 91-yard march to take the lead and eventually reach their second straight title game.