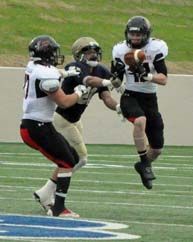 Nixon runs Cavaliers past Rangers, into final 8
Lake Travis' defense may have been a little late to the party Saturday, but sometimes better late than never works.
"I just feel like we were asleep in the first half," junior safety Chris Roller said after the game, a game in which he had two second-half interceptions as part of a resurgent effort.
"The speech we gave you at halftime should have been our pregame speech," Lake Travis coach Hank Carter told his team afterwards. "That's my fault. I'll get that fixed."
The comments came after Dallas Jesuit had its way with Lake Travis' vaunted defense in the game's first half. The Rangers scored on their first two possessions to take a 14-0 lead and had thrown Lake Travis' defense for a loop. Quarterback Bo Schneider threw three first-half touchdowns and passed for 221 yards, and Garrett Amy had his way with Lake Travis' secondary, catching six passes for 97 yards before the break.
But the Rangers had to play defense, too, and for all their offensive success in the first half, they held just a 24-21 lead at the break. Lake Travis' Shaun Nixon kept the Cavaliers in the game by rushing for 182 yards on 11 carries and two long scores. Chayce Pannell returned a kickoff 85 yards for another Lake Travis touchdown.
After Carter's halftime speech, Lake Travis' defense returned to its more expected form, shutting down the Rangers after halftime. Of the 167 total yards Jesuit gained in the second half, all but four yards (on the team's first four possessions of the half) came after Lake Travis had taken a 48-24 lead.
Jesuit's defense, though, had no such luck. By the time he finished, Nixon rushed for 337 yards on 30 carries with five touchdowns, all career highs, and the Cavaliers left Waco with a 55-30 win and a spot in the 5A, D2 quarterfinals.
In the second half, Lake Travis' defense came up with three interceptions and forced the Rangers three consecutive three-and-out possessions while the offense turned a 24-21 deficit into a 55-21 lead. Roller had two of the interceptions, the first of which set up Lake Travis' go-ahead score, a 25-yard strike from Dominic De Lira to Tyler Payne.
"We could feel things change with that interception," Roller said after the game.
Two of Lake Travis' interceptions stymied Jesuit scoring threats. Pannell picked off a deflected pass in the end zone and returned it 95 yards before being tackled at the Jesuit 5-yard line, and Roller's second interception came in the final minute after the Rangers had driven deep into Lake Travis territory.
Early on, Lake Travis couldn't contain the Rangers' combination of Schneider and Amy, but things changed a bit when Amy had his bell rung on a kickoff return early in the third quarter. He missed the Rangers' first series while trainers made sure he hadn't suffered a concussion and didn't factor in the proceedings when he returned. He made two second-half catches, both in the fourth quarter after Lake Travis had opened up a 55-30 lead.
Nixon, meanwhile, had no such lapse. He rushed for 182 yards in the first half and another 155 in the second half when it became clear that the Cavaliers were going to ride him as long as they needed to. Trailing 24-21 at the half and receiving the opening kickoff, Nixon carried the ball eight straight times to set up Dylan Tracy's 21 yard field goal.
Nixon scored on runs of 65, 56, 3, 23 and 5 yards. He's now rushed for 1,494 yards and 26 touchdowns on the season with another four touchdowns coming via pass reception and punt return. He also had a 72-yard touchdown called back due to holding, the third touchdown run he's had negated by penalty in the last two weeks.
Game Photos
Lake Travis overcomes 14-0 deficit to defeat Dallas Jesuit, advance to regional finals.