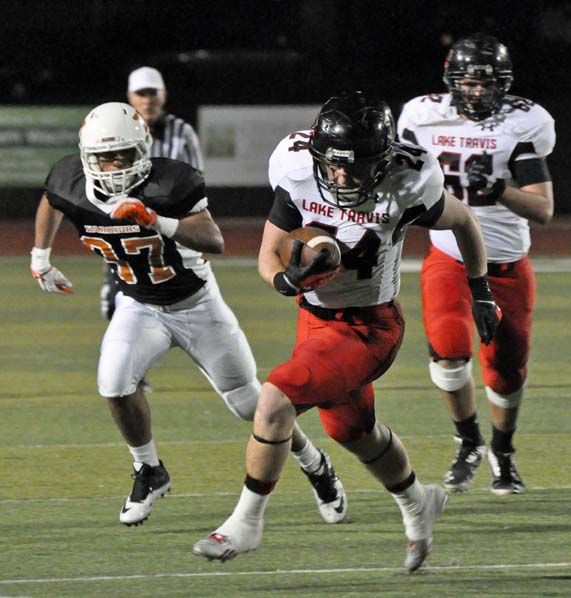 Mullett makes most of playoff moment
Michael Mullett is nothing if not a realist.
While he'd like to be the starting running back for a team with state championship aspirations, he knows that won't be the case. He plays behind Texas A&M-bound Shaun Nixon, the prohibitive favorite to win District 15-5A player of the year honors and compete for more individual awards as well. Nixon, as he showed in Lake Travis' district-title clinching rally against Westlake two weeks ago, is the Cavaliers' meal ticket. When they need a big play, chances are he'll get the ball.
But as Lake Travis approached Friday's Bi-district playoff game against Westwood, Nixon suffered a little nagging injury and missed time at practice. Mullett took plenty of first team reps leading up to the game. While he knew Nixon would play, he figured he might see more than potential mop-up duty if the game got out of hand. Mullett entered the game having rushed 32 times for 191 yards on the season.
"Well, Shaun hadn't been practicing too much all week so I figured I would get some playing time tonight," he said following the game.
He did, and he made the most of it. Nixon played just three series – enough time to gain 105 yards on just six carries – before heading to the sidelines for good early in the second quarter.
"Shaun could have played more," Lake Travis coach Hank Carter said Tuesday. "We were in a situation where we felt like Mike was doing a great job, so we held Shaun out. We wanted to be cautious with him. Once Shaun got warmed up [against Westwood] you could see that he was fine."
That left Mullett to carry the burden – and the ball – when the Cavaliers wanted to run. When the dust settled, Mullett rushed for a career best 150 yards on 17 carries with two touchdowns. His effectiveness, coaches pointed out, allowed them the luxury of resting Nixon and keeping him fresh for potentially tougher games as the playoff run continues.
"We have a lot of confidence in Mike," Carter said. "He's a physical runner. We're very, very proud of him and how he's stepped up. Also proud of the offensive line because they did a good job clearing the way for him. But that was pretty big to see that. It shows that we have some depth and that's important."
Coaches are forever preaching the need for backups to be ready to step in, and Mullett wasn't about to let his chance slip away.
"I did not ever expect to have a playoff game [where I rushed for] over 100 yards with an all-Central Texas back in front of me, but, hey, you've got to make the most of your opportunities," he said.
Carter noticed. Actually, he's noticed all along.
"He's a kid that can do a lot of things for us," Carter said. "I'd say it's a typical Lake Travis kid, a very unselfish guy who's always asking, 'Coach, how can I help the team?' It's great to see that."
Mullett had runs of 29 and 33 yards amongst his carries and also added a 22-yard catch-and-run on a screen pass from Dominic De Lira. When a third-quarter 36-yard score got called back due to holding, Mullett got his touchdown back on the next play, bulling through Westwood's defense from 13 yards out. And like an experienced running back, he knew what helped him to his career night.
"A lot of our outside run game was working," he said. "The linemen were doing really good sealing the edge and blocking up the middle, and it opened up."
As Lake Travis prepares to face Humble Atoscocita Saturday, Mullett doesn't know if or when he'll see extended playing time again. But if he proved anything Friday night, he'll be ready to make the most of it.
"The thing about Mike, he's a very versatile kid," Carter said. "We've used him more in the fullback role, but he can also run the ball really good and he does a great job of catching the football. I just think that gives us confidence to plug him in in a lot of different ways."
Click here to see the version of the story that ran in the Lake Travis View, as well as more news and notes on the Cavaliers.