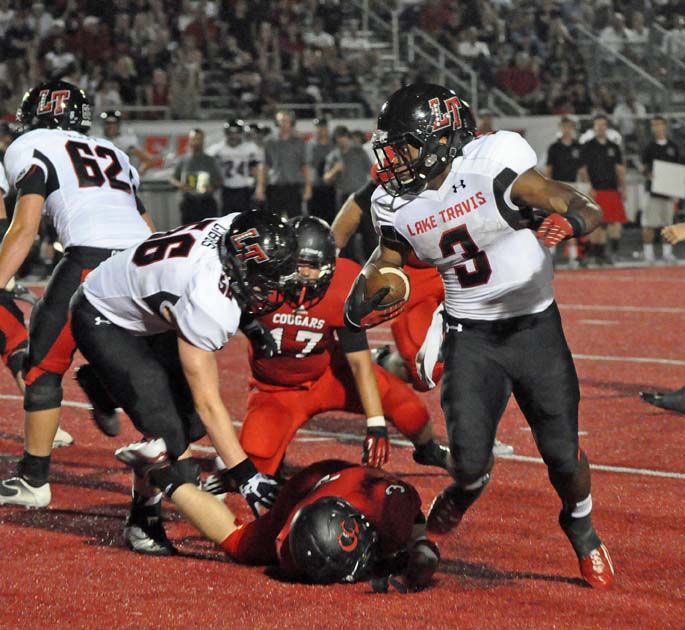 Lake Travis hopes offense takes off against Westwood
Offenses will take center stage Friday night as Lake Travis returns home to face Westwood.
Westwood senior quarterback Bear Fenimore heads into Friday's game as the area's most prolific passer. In Westwood's 45-27 loss to Bowie last week, the Houston-bound passer threw for 516 yards and three scores without an interception. For the young season, Fenimore has passed for 791 yards and six scores with one interception. His favorite targets have been Josh Bishop (16 catches, 214 yards, 2 touchdowns), Travis Dale (14-163-1) and Nick Andress (11-137).
Fenimore spent his freshman year at Lake Travis and was part of a three-man competition for the starting quarterback position during the spring prior to the 2011 season. Colin Lagasse won the job, and coaches installed Baker Mayfield as the backup. Following the spring, Fenimore's family moved and he enrolled at Westwood, and he took over as the Warriors' starter last fall.
"Bear's a great player," Lake Travis coach Hank Carter said Tuesday. "He can throw the ball, and they're catching it. Coach [Anthony] Wood has done a good job with that offense. They do a good job of protecting the quarterback. When Bear has time and is allowed to set his feet, he's effective. He does a good job of getting the ball out and getting it out quickly."
The Warriors fell behind Bowie early and decided to use Fenimore's passing prowess to get back into the game. Carter, though, doesn't anticipate the Warriors throwing so frequently Friday night.
"They were behind last week so that kind of forced them to throw the ball," Carter said. "They want to throw it anyway, but they probably threw it 8 out of 10 times last week."
To combat the Warriors' passing attack, Carter said his defense must be able to apply and sustain pressure, whether via the blitz or basic play calls. Senior defensive tackle Zach Davies leads Lake Travis' rush, along with junior defensive end Feno Pearson. Linebackers Hagen Patterson and John Brewer will also be key in the pass rush. Coverage discipline against a team that likes to throw lots of screen passes will be key as well.
"Whether we are blitzing or we're not, we need to get pressure on [Fenimore] and make him as uncomfortable as we can," Carter said. "And we have to react to their screen game. They are a big screen team. Probably a third of their pass plays are some type of screen, so we need to beat that with effort and recognition."
While Westwood's offense has put up big numbers in its first two games, Lake Travis' offense is still trying to find itself. In two games, the Cavaliers have yet to score any offensive points after halftime, though they didn't get many chances against a Canyon team intent on playing keep-away Friday night. Carter expects his team, which looked better Friday than in the opener, to continue to improve and actually score after halftime.
"We're going to do it Friday," he said with a smile. "Against Judson we didn't play as well in the second half offensively. Against Canyon we played okay, but the defense has got to give us a chance. We've got to give the ball back to our offense so they have a little more margin for error than just having four series in the second half."
Carter said the offense continues to work through the frustration of not scoring as frequently as folks expect.
"The kids and the coaches, they have high expectations," Carter said. "They aren't happy with the way they have played and we know they can play better than that. We need to play faster offensively. We can't have the silly penalties."
Junior quarterback Dominic De Lira looked much more comfortable against Canyon than he did in the opener against Judson. Friday night he got the offense going early, leading a trio of scoring drives and another that fell short when Canyon tipped and intercepted a pass at the goal line. Before halftime he completed 9 of 10 passes for 147 yards and two scores, both to Shaun Nixon. Carter expects that his quarterback will continue to develop and improve.
"I think Dom will get better every week," he said. "The more he's out there, the better."
Injury updates:
Lake Travis linebacker James Bailey will make his season debut. Bailey had missed the first two games recovering from an apparent concussion. Receivers Tyler Payne and Grant Foster missed the game at Canyon. Payne's availability will be determined at game time. Foster remains sidelined with a sprained knee.