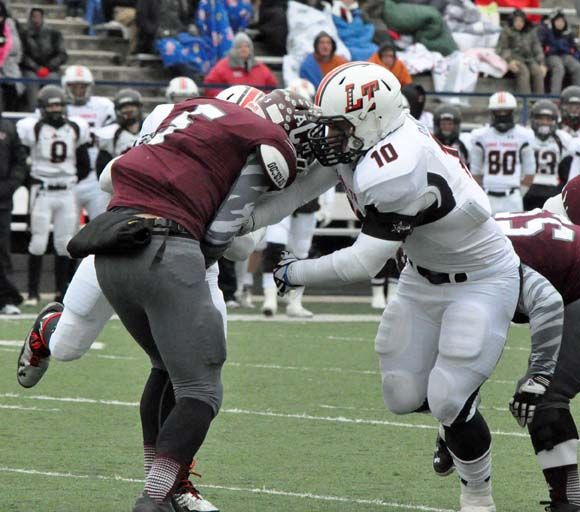 Game preview: Can Lake Travis' defense continue its playoff success?
As you'd expect this late in the game, Saturday's semifinal against Cedar Park marks the biggest test of the season for Lake Travis.
The Cavaliers and Longhorns will meet for the first time ever with a berth in the 5A, Division II championship game in the offing. Both teams are comfortable playing this late in the season. Lake Travis won five consecutive 4A state championships from 2007-2011. Cedar Hill won a state championship as recently as 2006 and played in the 5A, Division II title game last year. The Longhorns advanced to last year's title game by beating Lake Travis' District 15-5A rival Westlake on a last second field goal.
"They won a state championship a few years ago," Lake Travis coach Hank Carter said. "They went to the state championship game last year and played Katy and played well. But we also know they played Westlake and Westlake was a play away from beating them a year ago."
While the Cavaliers can take some confidence in comparing Cedar Hill to Westlake – Lake Travis has beaten Westlake six straight times though it needed fourth-quarter comebacks to win the last two – coaches know preparing for the Longhorns isn't nearly that simple.
"They present a challenge," Carter said. "Cedar Hill's defense can really run. We've heard a lot about their defense. Cedar Hill has quite a few players committed to Division I schools. I imagine that Cedar Hill looks a lot like Longview: Fast, athletic, tough."
So, how does the game break down?
Cedar Hill offense vs. Lake Travis defense
While the Cavaliers have played some balanced offenses thus far, they've done well to stifle that balance. Atascocita and A&M Consolidated managed a fraction of their seasonal averages against Lake Travis' defense. Cedar Hill presents another test to a Lake Travis defense playing as well or better than anyone still playing, though defensive coordinator Randall Edwards knows everyone in the final four can play defense.
"I think the further you go right now, the better the defenses are going to get," Edwards said this week. "All of them are going to be good."
Chances are the offenses are going to be good as well, and Cedar Hill is no exception. The Longhorns have a dangerous quarterback-receiver combination and a trio of running backs – Peter Lewis, Larry Hill and Aca'Cedric Ware -- to pound away at defenses. In their quarterfinal win over Denton Ryan, the Longhorns rushed for 440 yards. Even dynamic receiver Damarkus Lodge got into the act, taking a couple of direct snaps and scoring. He'd been primarily a passing threat, catching 61 passes for 1,166 yards with 18 scores from Justin McMillan.
"The thing about [Cedar Hill] is that they have multiple weapons," Edwards said. "That's what's going to be the toughest deal, defending the whole field because they have exceptional athletes out there, running backs, receivers and o-line. Great athletes. Good o-line. They throw the ball. They run the ball. They've got some threats and they aren't afraid to take chances."
Lake Travis will try to take one of those avenues of attack away and force Cedar Hill to be one-dimensional. That's been the Cavaliers' basic approach to defense, and it's worked. This team has allowed less than 14 points per game this season and the starting defense has allowed just 37 points in four playoff wins.
"We want to make teams try to beat us with something they don't normally do," Edwards explained. "And we want to get into positions where our kids can make a play. Do the mental part right and then it boils down to a physical deal. You can handle that."
Led by its defensive front of Zach Davies, Tevin Paul and Michael Islava, the Cavaliers have been particularly stingy against the run. Only Atascocita rushed for 100 yards, and much of that came against Lake Travis' second string defense. If the Cavaliers can contain Cedar Hill's three running backs and force McMillan to throw more than he likes – he averages 17 attempts per game, then they'll take their chances dealing with the likes of Lodge, a 6-foot-3, 195 pound junior. Lake Travis' secondary, led by Luke Hutton, James Bailey, Chayce Pannell and Chris Roller, has managed eight postseason interceptions.