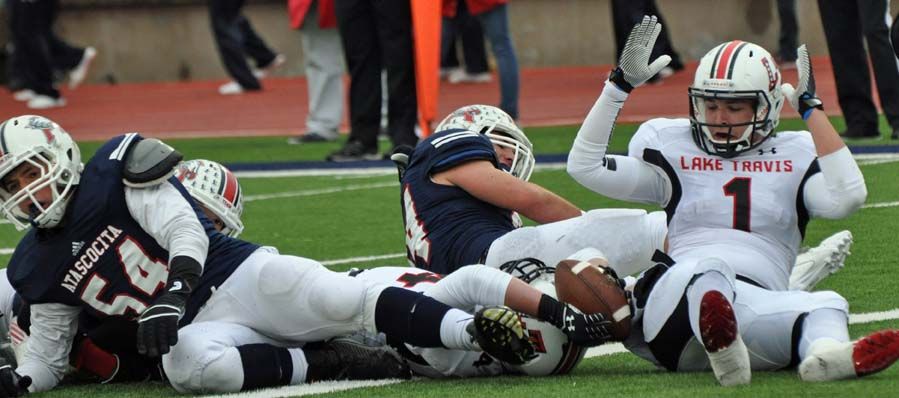 Cavs' quick start on offense, defense, ground Eagles
Lake Travis' newness to 5A football might have doomed Humble Atascocita Saturday afternoon in Bryan.
The Cavaliers, playing just their third 5A playoff game since last year's realignment bumped them up from 4A, did their thing at Merrill Green Stadium, scoring early and often en route to a 41-16 win.
Dominic De Lira tossed a career-high four touchdown passes, three to Tyler Payne, as the Cavaliers sprinted out to a 41-0 halftime lead. Payne and Grant Foster got so open on three of the touchdown passes that they wondered if the Eagles expected the Cavaliers to do anything other than hand the ball to Texas A&M-bound running back Shaun Nixon.
Each of Lake Travis' first three drives ended the same way. De Lira took a shotgun snap from Brent McCarty, stood tall in a clean pocket and waited. Each time, Payne or Foster broke wide open on simple post routes. The receiving tandem beat their coverage and turned inside, where Atascocita's corners had no safety help.
"Game-plan wise, we had a lot of stuff where if we saw them in a certain coverage we'd be able to attack it," Payne said. "In a lot of cases, that's what happened. We saw things we could take advantage of and we did that."
Nixon, though denied a touchdown for the first time all season, did plenty to warrant the Eagles' attention. He had two touchdown runs negated by penalty but still ran through the Atascocita defense for 123 yards on 26 carries. He had long runs to set up Payne's second scoring catch and Foster's as well.
"So we were going to try and pound it as much as we could to get toward the red zone, get things to open up so we could throw it down the field," De Lira said.
While DeLira and his receivers – Payne especially – had their way with the Atascocita defense, his opposite number couldn't say the same. Eagles quarterback Greg Campbell entered the game with 2,200 yards passing and another 1,100 rushing and 41 combined touchdowns. Against Lake Travis' starting defense, Campbell never threatened to get loose.
Though he finished with 177 yards rushing on 19 carries and 155 yards passing, most of his damage came late in the game after the Cavaliers' defensive starters had called it a day. In two possessions against Lake Travis' back-ups, Campbell gained 88 of his rushing yards and 50 of his passing yards, along with both of Atascocita's touchdowns.
"We bottled him up for the most part," Lake Travis head coach Hank Carter said. "He got loose a couple of times, but I was proud of how our team played."
Led by James Bailey, the Cavaliers' starters forced four turnovers. While Lake Travis scored on its first five possessions to open up a 34-0 lead with 7:31 left in the first half, the Eagles gained just six yards on their first four possessions. Atascocita didn't get a first down until Campbell scrambled for 26 yards five minutes into the second quarter. Two plays later Bailey intercepted a deflected pass and returned it 66 yards for a touchdown. To that point, Atascocita had gained just 31 yards on 16 plays with three turnovers, including one on a muffed kickoff.
"We couldn't have written that start any better," Carter said. "We wanted to start on defense and we wanted them to go into the wind and we were fortunate enough to win the flip. We came out and played well and got good field position after the punt and our offense just attacked them from the start."
Luke Hutton and John Brewer combined to make 22 tackles. Each recovered a fumble. Bailey and Chris Roller produced interceptions. Zach Davies sacked Campbell twice. When Campbell did throw, Lake Travis defensive backs knocked down 10 passes, led by four from Chayce Pannell and three from Hagen Patterson, one on fourth down in the end zone.
"We had a lot of knocked down passes," Carter said. "We had two interceptions and the opportunity for a couple more. Throwing into the wind, it gave us a little more time to break on the ball and I think our kids were really locked in. Both coordinators had the kids ready to play. Coach [David] Collins and Coach [Randall] Edwards, I need to give them their credit. We had a game plan and the kids went out and executed it."
While the Eagles struggled, the Cavaliers soared. De Lira completed 10 of his first 12 passes for 126 yards and the four touchdowns. His only turnover came on the opening drive of the third quarter when Atascocita's Jayce Rumsey intercepted his pass in the end zone. His only other mistake came when he dove at a defender's ankles, picking up a penalty that negated a Nixon touchdown.
"There were some things that Coach Collins felt we could take a shot on if we had the opportunity," Carter said. "Dom made some great passes and kids made some tough catches."
Photos from Atascocita
Photos from Lake Travis' 41-16 win in Bryan.