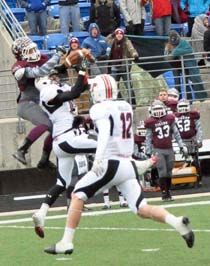 Cavs make DEF statement in de-clawing Tigers
Hank Carter doesn't have vanity plates on his car, but if did it'd be a safe bet they'd read "DEF WINS."
The Lake Travis head coach – and former defensive coordinator – proved that point again on a frigid Saturday afternoon in Temple. Though it's veteran coordinator Randall Edwards in charge of the defense these days, Carter smiled as his Cavaliers utterly controlled A&M Consolidated's previously prolific offense in a 21-7 win.
Led by Zach Davies, Michael Islava, Luke Hutton and John Brewer, Lake Travis held A&M Consolidated 35 points and 340 yards below their season averages. Since losing to The Woodlands 24-7 on Oct. 4, the Tigers had scored at least 41 points in a seven-game win streak. The Tigers managed just 139 yards of total offense Saturday after averaging better than 480 yards in three playoff wins.
Lake Travis' defense set the tone early. Facing a fourth and short at midfield on their second possession, the Tigers went for it. Brandon Jackson, who'd rushed for 1,189 yards entering the game, got stuffed. Five plays later, the Cavaliers took the lead on Dominic De Lira's 29-yard strike to a diving Grant Foster.
Afterwards, both coaches talked about Consol's fourth down failure.
"I probably shouldn't have done that," Consol head coach David Raffield told the Bryan-College Station Eagle. "We ran what we thought was going to be one of our best plays to pick up a few yards. I thought it was a good, calculated risk, but it turned out their defensive line was a little better than I thought."
Carter told the Eagle that the stop produced a key momentum surge.
"We were able to get a stop and the offense took advantage of it," he said.
Lake Travis keyed on stopping Jackson and forcing the Tigers to all but abandon the run. Once that happened, the Cavaliers pinned their ears back and pressured Consol's Kobe Miller into a nightmarish outing. Though he completed 17 of 24 passes, he managed just 111 yards, nearly two-thirds below his seasonal average. When the Cavaliers didn't sack him – they registered six – they forced him into hurried, check-down throws and then flocked to the ball.
Of Miller's 17 completions, nine went for five yards or less, including four that lost yardage. Derrick Dick, who Carter likened to Lake Travis all-state performer Andy Erickson, drew the brunt of the coverage from a combination of Hutton, Brewer, James Bailey and Hagen Patterson. Dick, who entered the game having gained more than 1,000 yards on 69 catches, lost yardage on all three of his catches. Miller's only success came in finding Kerry Thomas, who had eight catches for 86 yards and a fourth quarter score that lifted Consol's spirits and trimmed Lake Travis' lead to 21-7.
Lake Travis missed a chance to extend the lead to 28-7. The Tigers tried an onside kick that Hunter Greer recovered, but Tyler Payne couldn't hang on to a De Lira pass in the end zone and the Cavaliers punted. Dick lost four yards on the return, pinning the Tigers at their own 4-yard line. Jackson responded with his two best runs of the day, gaining 40 yards near midfield. Miller then lofted a long pass for Dick, but Brewer had position and came down with the interception, effectively ending any late drama.
While Lake Travis' defense de-clawed the Tigers' offense, the Cavalier offense didn't exactly set the scoreboard on fire. Though a big third quarter, driving into a significant breeze, helped make the defense's job easier.
The Cavaliers took the second half kickoff and embarked on their longest drive of the season. Using a mix of short passes from De Lira and runs by De Lira and Shaun Nixon, the Cavaliers methodically marched 71 yards in 17 plays that took 5:30 off the clock. De Lira found Foster three times and hit Payne to convert a fourth down. Nixon capped the drive – on which he carried the ball eight times – with a 6-yard run escorted by Romey Kelso.
When the defense gave the offense the ball right back, the Cavaliers scored more traditionally. Nixon returned a punt 30 yards to give Lake Travis a short field and capped a quick, five-play drive with a 14-yard touchdown run. Nixon finished with 191 yards on a career-high 36 carries.
The win advances Lake Travis to the 5A, Division 2 semifinals for the first time, but it's the sixth time in seven seasons that the Cavaliers have made it this far. Lake Travis won five consecutive 4A state championships before losing in the first round of the 5A playoffs last season. In fact, Lake Travis has never lost a playoff game later than the second round. Lake Travis faces the winner of Region I championship game between Cedar Hill and Denton Ryan, which was postponed until Monday due to weather.
The state semifinal will likely be played in Waco next Saturday afternoon. The winner advances to AT&T Stadium to face either Katy or San Antonio Johnson. Johnson upset Steele 42-41 yesterday. Katy is the defending 5A, Division 2 champion.
Lake Travis 21, A&M Consolidated 7
Photos from a chilly state quarterfinal in Temple.