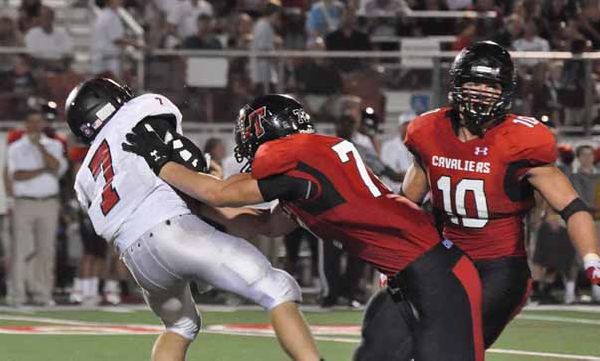 Winning 1st down will be key for Cavs against Pflugerville
Lake Travis begins its quest for a sixth consecutive state championship – and first Conference 5A crown – against an unfamiliar foe.
The Cavaliers take on Pflugerville tonight in Georgetown. It marks the first time the schools have met on the gridiron. The Panthers – wearing uniforms of famed Dillon High School from the Friday Night Lights television series – present a much sterner opening round test than the Cavaliers have seen in recent years.
Including a 28-20 nail biter over McCallum in 2010, Lake Travis' average Bi-District win during its championship run has been by a 47-11 score. Pflugerville figures to provide a much sterner test with its powerful running game and big, athletic linemen on both sides of the ball.
Led by 1,000-yard rusher Adrian Dilworth, the Panthers plan to run the ball behind a seasoned, polished offensive line, a formula that has served opponents better than others against Lake Travis. Run the ball, keep the Lake Travis offense off the field, limit scoring opportunities for the Cavaliers. Westlake used the formula and almost came through with a district championship-clinching win before Lake Travis escaped with a late touchdown. Lake Travis head coach Hank Carter expects to see the same thing from Pflugerville.
"I believe everything happens to us for a reason," Carter said this week. "Throughout this run, we've been blessed in a lot of ways. I kind of feel like playing the way that we have, and the way Westlake and Del Valle ran the ball on us was preparing us for what we needed to do better in the playoffs. We're going to have to stop the run against Pflugerville."
The Panthers will run at Lake Travis from a wing-T formation, and Carter said the Cavalier defense must win on first and second down to put Pflugerville in potential passing situations.
"First down is a big down," Carter said. "We have to get them in a situation…we can't be in third and two defensively because they've got everything they want to do for third and two. We've got to make sure that we hold them on first down. We want to be in second and seven or more. Tackling and being physical is going to be really important. [Dilworth] is really strong with powerful legs. So we've got to make sure that when we hit we drive our feet so they don't get any extra yards. Now, if you can get them in a passing situation, it's not what they want to do and you can tell it's not what they work as much. They are really good at running the football."
Zach Davies and Brandon Quinterro, Lake Travis' defensive tackles, will have to hold up at the point of attack, and the rest of the defense led by linebackers Luke Hutton and Hagen Patterson will need to rally to the ball while keeping an eye out for Pflugerville's speed.
Offensively, the Cavaliers figure to get a boost with Shaun Nixon's return, giving them the added threat of running the ball between the tackles. The Cavaliers will still want to get the ball to the edges and force the larger Panther defensive linemen to run more than they're used to, and Carter said the ability to run inside will help with everything both running and passing.
"Any time you can make a defensive player think about stopping the run, you're helping your offense," Carter said.
With Nixon healthy enough to play, Lake Travis now has a trio of running backs to lean on and five or six receivers for Mayfield to choose from in the passing game. All will be vital, Carter said, if the Cavaliers are to vanquish Pflugerville and advance to the Area playoffs to cap off Thanksgiving.
Defensively, the Panthers will be big and strong on the defensive front and athletic in the secondary. Carter expects pressure up front and tight coverage on the outside, where Mayfield will try to get the ball to Tyler Payne, Preston Dupre, Zach Joiner and blossoming sophomore Grant Foster, last seen sprinting 96 yards for the touchdown to beat Westlake and clinch the District 15-5A title.
"In the secondary they are talented and will get up in our face," Carter said. "We will have to make some dynamic plays in the passing game, getting off of some press coverage, things like that."
The Cavaliers have gotten plenty of practice throwing and catching in tight spots. Most teams, following a blueprint laid out by Cedar Park during the school's 4A battles, have tried to take away Lake Travis' short, quick passing game. Carter said that his offense must establish that aspect of its attack as well as do some other things to make life difficult for Pflugerville's defense.
"We have to find a way to get the ball out on the edge and make them run," Carter said. "I call those our gimmes. We have to get the ball out to our skill guys and make them tackle us in space."
The quick strikes, be it via sweeps with Nixon or Packer or quick passes to Foster, will also help keep the defensive line from rushing without abandon. Tempo – the quickness with which Lake Travis can get to the line of scrimmage and snap the ball – will also be crucial. Though the Panthers are bigger up front defensively than some of Lake Travis' linemen, Carter is hopeful that by playing quickly the Cavaliers can limit the pressure the Panthers can apply to Mayfield.
"We need to be able to run the football some," Carter said. "They have some athletes that, in their pass rush, aren't a great match-up for us. And that's how it is every week right now when you're playing a young offensive line. Our tempo will help slow them down. If we will get them running, that will slow them down. The threat of us running the ball at them will make them think and totally changes how the defense can play. That will be important."
Another way to help the young line out is adding some experience back to it. Jake Adams started the first three games before injuring an ankle against Westwood. He played some against Westlake but figures to see his first extensive playing time this week. Sean Peacock joined the offensive line late in the preseason and also missed significant time following an injury early in the season.
Looking ahead:
If Lake Travis can defeat Pflugerville, it would take on the winner of Spring Dekaney and Lufkin in the Area playoffs, most likely the Saturday after Thanksgiving in Bryan.
Dekaney is the defending 5A, D2 champion, though the main weapon on the team that beat Steele for the title, RB Trey Williams, is now getting carries and returning kicks for Texas A&M as the Aggies take the SEC by surprise.
Lufkin finished 2012 as the 14-5A runner up. Lufkin does own a quadruple overtime win over A&M Consolidated, which handed Lake Travis its only loss back in week 3.