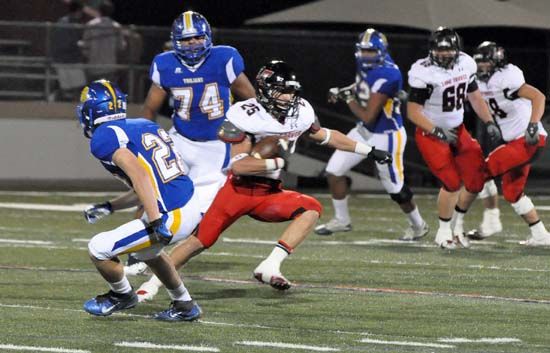 Updated District 15-5A standings
Lake Travis and Westlake locked up playoff berths, Austin High earned its first district win, and the final three weeks should provide plenty of fireworks as the District 15-5A season enters the home stretch.
By defeating Anderson and Del Valle, respectively, Lake Travis and Westlake officially clinched spots in the state playoffs. Lake Travis is headed to the Division II bracket. With Del Valle a game ahead of Bowie and Austin High in the standings, how those teams finish will determine whether Westlake plays up in Division I or down in Division II. If Del Valle and Bowie earn the final spots, Westlake joins Lake Travis. If Austin High earns one of the remaining spots, then Westlake goes into Division I.
Should Lake Travis defeat Del Valle Friday, the Nov. 2 meeting between the Cavaliers and Chaparrals will determine not just the district title, but also the playoff seeding in case they both end up in the Division II bracket.
Del Valle leads both Bowie and Austin High by a game in the standings, but the Cardinals must play each to finish the season. Depending on how things shake out Friday night, all three could be tied with 2-2 district marks heading into next weekend.
District standings Dist Overall PF PA
Lake Travis 4-0 7-1 289 119
Westlake 4-0 5-3 246 123
Del Valle 2-1 3-4 190 130
Bowie 1-2 3-4 128 188
Austin 1-2 2-5 183 212
Akins 0-4 1-7 117 319
Anderson 0-4 0-7 65 242
Last week's games
Lake Travis 40, Anderson 10; Westlake 31, Del Valle 9; Austin High 47, Akins 14
This week's games
Del Valle at Lake Travis; Akins at Bowie; Anderson at Austin High