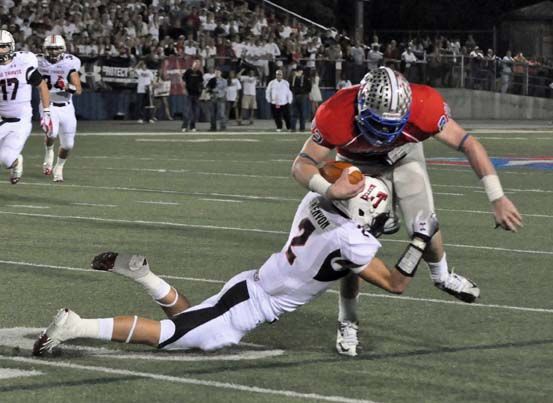 Chaps' coach made right call to go for knockout blow
I'll come right out and say it. I will not studder. I will not waver. Darren Allman made the right call.
His Westlake football team didn't just have the District 15-5A title in its grasp. Perhaps more important than a district title, the Chaps had their best chance to erase four years of frustration at the hands of Lake Travis.
Leading 11-7 and running almost at will against a Lake Travis defense that had been on the field for 31 of the nearly 44 minutes of game time that had elapsed, the Chaps faced a crucial decision. Send kicker Michael Barden out for a chip shot, or go for the first down – and possibly touchdown – on fourth down and two from the Lake Travis 5-yard-line.
Allman had 44 minutes of reality on which to base his decision, and he liked his odds. Not counting quarterback sacks, Westlake had tried 44 running plays and had averaged 4.3 yards per carry. Only nine times had Westlake failed to gain at least two yards. Four minutes earlier, the Chaps had converted a fourth-and-four with a nifty pass out of the Wildcat formation by running back Chris Canter.
Defensively, the Chaps had held Lake Travis in check. Only twice had Lake Travis ended a drive on Westlake's side of midfield – once on a second quarter drive that saw a holding penalty negate Kevin Marcotte's 42-yard field goal and once, at the end of the third quarter, on a six-play, 77-yard drive capped by Grant Foster's first touchdown catch.
Despite Lake Travis' pedigree, its championship history and its dominance of Westlake, the ball had not bounced the Cavaliers' way all night. Even a fourth-quarter fumble recovery that stopped a Westlake scoring drive ended up in points for the Chaps. From their own 5-yard line, the Cavaliers tried to pass but a holding call in the end zone resulted in a safety.
The only thing left for Allman's Chaps to do was to put Lake Travis away and end four years of misery the Chaps had suffered at the expense of their western neighbors.
So with four minutes and 12 seconds left in the game, Allman sent his offense to the line of scrimmage.
Critics talk about the message Allman sent with the call: that he didn't have enough confidence in his defense to keep Lake Travis from driving from a tying score. I believe the message was just the opposite: by taking the risk – and the ultimate risk was not converting the first down and turning the ball over – Allman essentially said not only did he have faith that his offense could get the first down, if they didn't his defense would rise up and make one more stop to secure the win. After all, to that point in the game, Lake Travis had gained just 148 total yards.
"We were playing to put the game away," Allman told the Austin American-Statesman following the game.
A measly two-yard gain would at worst kill two minutes of game time and result in the same short field goal, leaving Lake Travis with very little time to mount a tying drive. But at best, the Chaps would convert and punch the ball into the end zone and take an insurmountable 18-7 lead.
Even if the Cavaliers rose up and somehow stopped Westlake short of the first down, the odds of them driving 95 yards seemed even longer against a Westlake defense that had played a near-perfect game.
These are all points that Lake Travis coach Hank Carter conceded as reality days removed from the game.
No one, not even the most ardent Cavalier supporter, could have envisioned what happened next. The Cavaliers stopped Alex Chavez for no gain, and two plays later Foster found himself running free with the football on the game-winning, 97-yard touchdown catch.
"I feel for them because that's a tough way to lose a game," Carter said Tuesday. "They had played so good all night, they really had."
Carter, when pressed, wouldn't talk about what he might have done had he been in Allman's shoes Friday night, but those who have followed Lake Travis football over the championship run can make fairly educated guesses.
Carter, a defensive coach at heart, likely would have had faith that – on the chance that his offense couldn't convert – his defense would not allow a 95-yard drive to win the game. "If anything," one said, "having a defense that is playing well gives you more confidence to go for it." The risk would have been well worth the reward that success would bring.
And Carter's predecessor? With his offensive mindset and confidence in his play-calling, I have no doubt that Chad Morris makes the same call – to go for the first down and the knockout blow. "The only odds he cared about were the odds of success, and if it was more than 50/50, it might as well have been 100 percent."
Allman obviously agreed, and like any head coach faced with that decision, he must now live with the consequences, with the expertise of the Monday morning quarterbacks. The plan may have backfired upon execution, but the result doesn't change the fact that the logic behind the plan was sound. His team had a chance to put the game out of reach, and he took it, result be damned.
"Just because something doesn't work out doesn't mean it was the wrong decision," one writer who watched the game acknowledged.