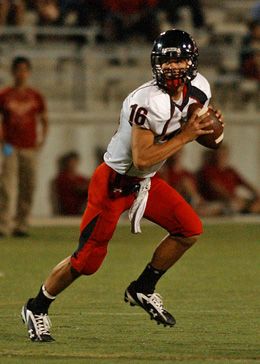 Cavaliers-Warriors preview
Tonight's match-up pitting Lake Travis at Westwood won't likely be an early-season playoff preview. Though District 15-5A and District 16-5A will battle each other when the Bi-District playoffs arrive in November, it appears the prohibitive favorites to win their respective districts are destined for different divisions.
Westwood, 2-0 already and ranked third in Central Texas according to the Austin American-Statesman, is one of the largest schools in 16-5A. Lake Travis, also 2-0 and ranked first in the state, has the second smallest enrollment in 15-5A. Four teams make the playoffs from each district. The teams from schools with the two largest enrollments play in the Division I tournament. The teams from schools with the two smallest enrollments advance to the Division II tournament.
Because the schools won't meet in the post-season, there is little reason for either side to hold anything back. The Cavaliers, head coach Hank Carter said, will continue to build on their offense that has averaged 48 points per game in two wins, and he expects Westwood will pull out all the stops to try and knock his Cavaliers off their perch.
"It will be a good measuring stick for where we are, but it doesn't really impact anything down the road," he said. "We try not to put too much on one game. We tell the kids every day that the season is a marathon, and we want to get a little bit better every week. "
Carter realizes that the Warriors will be the best team the Cavaliers have faced so far, and in many ways, coach Anthony Wood's team reminds Carter of his own.
"They are well-coached and they have talent," he said. "When you look at them on film, you see that they execute well, they throw it better [than the teams we've seen so far], and defensively the kids play their techniques and execute their assignments."
The Warriors don't have the big running threat that they've had in the past – Carter recalled current University of Utah running back Princeton Collins – but the Warriors try to be balanced in a variety of ways.
"They have a lot of able-bodied backs and they throw a lot of screens and quick passes," Carter said. "They will try to spread you out and change the tempo of the game."
Ty Marshall, a senior running back/receiver, averages nine catches and 100 yards receiving per game. He's caught three touchdown passes and scored another on the ground.
Lake Travis enters the game off a very solid defensive effort, one with which Carter became more and more pleased the more he watched film of the performance.
"Our defense handled that stack I better than we might have thought," Carter said. "Going in, I wouldn't have thought we'd have played them that tough."
Lake Travis limited New Braunfels Canyon to only 127 yards rushing after the Cougars gained more than 300 in an opening loss to Killeen. Canyon's lone score came after a Lake Travis fumble gave the Cougars a short field.
Carter said sophomore rover James Bailey continues to impress, despite a few on-the-job-training-type mistakes.
"Bailey is still playing well," Carter said. "He made some typical sophomore mistakes, but he's a good defensive player."
Bailey made 10 tackles against Canyon, one of three Cavaliers in double figures. Junior linebacker Luke Hutton led the way with 17 and fellow linebacker Hagen Patterson added 12.
Cavs-Warriors history
Lake Travis and Westwood have met four times in recent years, beginning in 2006. The Warriors got the best of the Cavaliers in that opening meeting, 35-3, in a game that then-sophomore quarterback Garrett Gilbert remembered as the one in which he suffered the hardest hits as a high schooler.
"I remember just curling up on the ground from it," he said in Drive To Five. "It was a rough game."
The following year, the Cavaliers got their revenge, winning a hard-fought 18-10 decision coming off a frustrating 28-21 loss at Westlake. Gilbert ran for a pair of touchdowns against a tough Warriors defense. The win, as innocuous as it seemed at the time, started the Cavaliers on a 48-game win streak that lasted from 2007 to 2010.
In that streak the Cavaliers beat the Warriors twice more. In 2008, the Cavaliers made a late stand to beat Westwood 27-20 in the Alamodome in Chad Morris' first game as the Lake Travis coach. Gilbert threw three touchdown passes to Cade McCrary in the game. The following year, Andy Erickson ran wild, catching passes for 163 yards from Michael Brewer and running for another 164 in a 55-31 win, scoring touchdowns of 34, 74 and 80 yards. The game marked Brewer's first as the Cavaliers' quarterback succeeding Gilbert.
"That game was big for me because it was my first start," Brewer said in Drive To Five. "It was going to be hard to replace No. 7."
Brewer did indeed replace Gilbert, completing 17 of 23 passes for 379 yards and four scores.