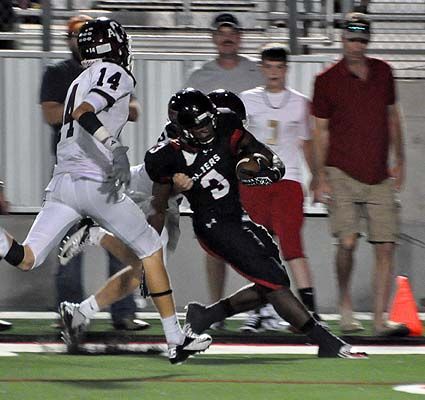 Bracketology: top seeds stand out in 5A-D2
With just two Fridays left in the regular season, the playoff picture is starting to come into focus. It doesn't take quite as much guess-work to fill in a bracket, though a few districts still have plenty left to decide.
Based on standings entering week 9, here's a latest guess at how the playoff picture would look for Lake Travis, which has locked up a place in the 5A, Division II tournament.
The Cavaliers, ninth in the latest state AP rankings, remain the highest ranked team in Region 2. With a win Friday at Westlake, the Cavaliers would take on Pflugerville in the opening round. Westlake would take on Hendrickson, the winner of District 16-5A.
Opening round wins for the Cavaliers and Chaps would present some intriguing matchups. The Cavaliers would play the winner of Lufkin and Spring Dekaney. Dekaney won the 5A, Division II title last year. By beating Hendrickson, Westlake could earn a rematch with A&M Consolidated, who has beaten both the Chaps and Cavaliers this season.
Other prominent teams in Region 2 include Dallas Jesuit and Longview in Westlake's half of the region and Lake Highlands in Lake Travis' half.
Region 1 features unbeaten Abilene. The Eagles are ranked fifth in the state. Region 1 also includes the two most recent 4A state championship oppnents for Lake Travis: Denton Ryan and Waco Midway. Those schools could potentially meet in the area round.
Katy, the state's top ranked team, resides in Region 3. The Tigers should have little trouble making it out of a region that includes Port Arthur Memorial and Alvin Manvel. A potential third round meeting with LaPorte might be Katy's toughest regional test.
Steele, which has made back-to-back 5A, Division II championship appearances since moving up in 2010, is the class of Region 4. The Knights, who lost in 2008 and 2009 to Lake Travis in the 4A playoffs, are ranked third in the state and should meet Smithson Valley in the regional final.