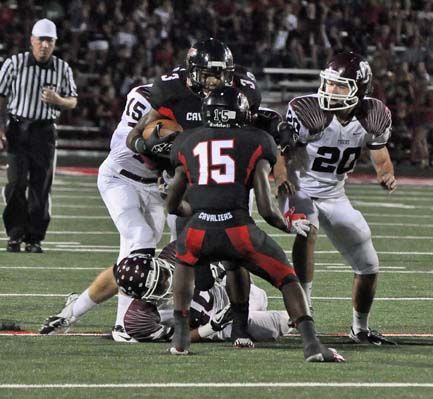 Austin High Notes
All things new
Lake Travis, in its first 5A season, meets Austin High for the first time in school history. The Cavaliers enter the game 3-1 on the season and ranked eighth in the latest AP 5A top 10. Austin High enters with a 1-3 mark. It's the District 15-5A opener for both teams.
Austin High enters the game having defeated McNeil for its first win on the season, and the first win for first-year head coach Mike Rosenthal. Rosenthal takes over from L.D. Williams, who resigned following a 2-9 season in 2011. Rosenthal is fairly new to coaching but has plenty of football experience. The coach spent nine seasons as an NFL offensive lineman with the Giants, Vikings and Dolphins after earning All-America honors as a senior at Notre Dame. Upon retiring from the NFL, Rosenthal settled in Austin with his family before being bitten by the coaching itch. Last year, the Westlake Picayune profiled Rosenthal.
After two seasons coaching the freshman team and varsity offensive line, Rosenthal applied for and got the head coaching job. The season got off to a difficult start with losses to Westwood (46-21), Pflugerville (34-14) and Cedar Ridge (42-25), but the Maroons got into the win column with an impressive 48-27 win over McNeil. The Maroons leaned on their rushing attack to jump out to a 41-14 lead. Quinta Goode and Quincy Reese both rushed for more than 100 yards and two scores. Isaiah Jones, who entered the game as Austin High's leading receiver, didn't catch a pass but rushed for 76 yards and completed a pair of passes, including one for a score. John Mansour completed 7-of-9 passes as the Maroons rushed for 350 yards and threw for 100 more.
For Lake Travis, this week marks a new feeling for all but one Cavalier. Only senior cornerback Brock Kenyon had experienced what the Cavaliers went through last week, a 30-28 loss to A&M Consolidated. The Lake Travis View's Habeab Kurdi caught up with Kenyon this week. The loss was Lake Travis' first since 2010, a 35-21 loss to Cedar Park in the regular season finale. Following that loss, Lake Travis won 25 consecutive games, including three more wins over Cedar Park and, of course, state championships in 2010 and 2011.
"It's a good thing that no one remembers the last time we lost," Carter said. "It's just a weird feeling."
Following the loss, as frustrated as he was, Carter said he saw positives in the way the Cavaliers rallied after digging themselves an early hole.
"We know we didn't play well," he said. "But we still should have beaten a really good team. If we had gotten a stop there at the end…."
Each time the Cavaliers rallied, they managed to do something to lose momentum. After the Cavaliers' Baker Mayfield found varsity newcomer Chayce Pannell for a 9-yard touchdown midway through the third quarter to close within 23-21 and the defense forced a three-and-out following a sack from Feno Pearson, another newcomer, Kenyon couldn't hang on to a punt and Consolidated recovered, scored and extended its lead back to 30-21. In the fourth quarter, after Shaun Nixon scored on a 28-yard run and the defense forced yet another three and out, Lake Travis figured to take control for the first time. Nixon ripped off a 47-yard run to reach the Consolidated 20, but Zach Joiner lost the ball on the next play, and Consolidated dodged a bullet. Kenyon's interception gave Lake Travis another chance at the Consolidated 35, but three incompletions gave the Tigers the ball back with 3:27 left. Lake Travis never touched it again.
"We have to take care of the ball, but we are pretty good," Carter said following the game. "We shot ourselves in the foot about 100 times."
Youth is served
All of Lake Travis' injuries have forced the Cavaliers to look ahead. While the Cavaliers haven't made a big deal out of recent personnel changes, the newcomers were obvious on the field Friday night, both for their contributions and their appearance.
"We had guys with no names on their backs step up and play really well," Carter said of his team's showing against A&M Consolidated.
Newcomers Pannell and Pearson both had highlight plays in their first varsity action, and Carter expects more of the same as they get more experience, along with other sophomores and juniors forced into varsity action.
"A lot of our experienced players are out, so we need games and practices under our belts," Carter said. "That will help our younger players get the confidence that comes through experience. Our future definitely looks bright, but they have to grow up faster than we might have wanted them to."
Pannell made seven catches for 52 yards with a touchdown. Pearson, rotating in at defensive end, made six tackles.
The youngsters will get some help this week as two experienced Cavaliers figure to get back onto the field. Defensive tackle Spencer Staples felt good after Monday's practice and expects to make his season debut against Austin High. Defensive end Michael Islava should also return to the lineup after missing the Consolidated game. He's made 15 tackles and two sacks on the season.