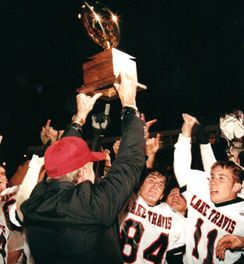 Heartbreaking success - Ch. 3
When Connally and Lake Travis officials met prior to the game to establish location, referee choices, and the like, they did so by a series of coin flips, all of which the Cavaliers famously lost. Athletic Coordinator Lisa Spain, also the school's girls basketball coach, went with Shewmake and did all of the calling. They flipped a coin eight times that day, and she lost them all. Connally hosted the game on Friday night instead of Saturday afternoon, and so on.
Not that any of it mattered to the Cavaliers. Of course, following suit, they lost the coin flip before the game. Connally deferred their option to the second half, and the Cavaliers took the ball. The Cavaliers had their plan, and the time had come to hatch it.
"So, we got in our two-back set with a tight end, and we faked the ball to the running back," Shewmake recalled. "I told the kids it didn't matter where we were on the field, if we were at midfield or if we were at our one-yard line. We were going to run that post."
Skaggs put the ball in the burly Bowen's belly and pulled it out. Quick, the Cavaliers' star receiver, split out to the left and ran a perfect post pattern.
"Sure enough, that safety came up and we threw it over his head and score on the first play," Shewmake said with a smile. "When you work like we had worked that week, and then you throw it for 80 and a touch on the first play, then you know it's going to be fun."