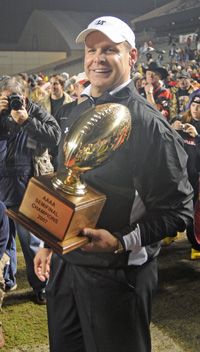 Dicus' arrival - Ch. 5
With new coaches, first impressions can be crucial, and by all accounts the impression Dicus made upon his arrival couldn't have been better.
"When you meet him, he's a motivating person," former LTHS principal Charlie Little said. "He was a proven program builder and what we needed at the time. LT back then wasn't a place anyone wanted to be a head coach. It had promise, but it hadn't been successful. We wanted someone who would pay their dues to move it forward. He had everything we were looking for, and I felt we worked well together during that time."
Dan Kleiner joined the Lake Travis View in 2004 and covered sports for three years. He came to work with Dicus regularly during that time, covering the Cavaliers as they began their climb.
"My first impression of Dicus was that he was a massive man," Kleiner recalled. "He looked the part [of a football coach], like he was born for that role: big, muscular and he had the mentality. He was a dominant figure. He was born to do nothing else but coach football."