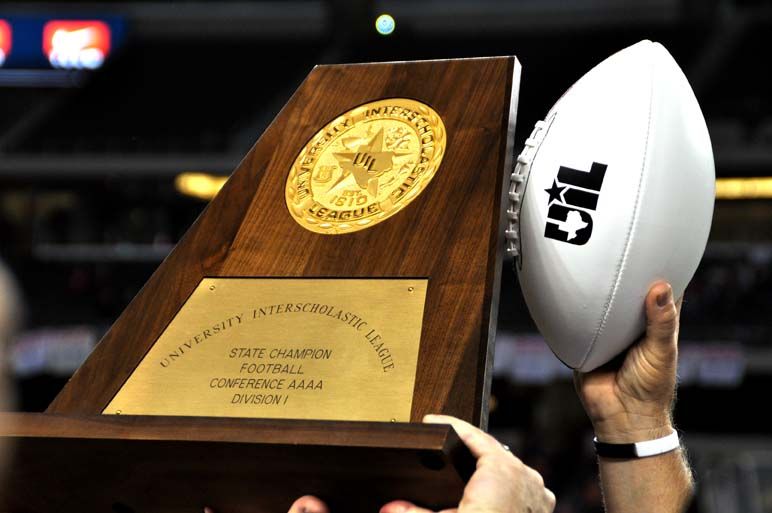 Chapter 1: The Aftermath (full version)
The clock approaches midnight on an otherwise non-descript December Friday in Texas. But this isn't any ordinary Friday night. It is Texas State Football Championship Friday, and an entire community has happily endured the three-hour journey from the shores of Lake Travis, outside Austin, to Cowboys Stadium in Arlington. It is a spaceship of a football stadium erected in the spirit of the Colosseum of Rome, the true monument to the sport that matters most in this corner of the country. Thousands, from Lake Travis or otherwise, watch on TV sets at home.
The community stands as one under the glow of the bright lights and massive jumbotron and continue cheering as they have since kickoff occurred nearly four hours ago. Tears flow amongst prolonged victory shouts. They haven't just witnessed a state championship football game between their beloved Cavaliers and the Panthers from Midway High School, just outside Waco. They've witnessed Texas high school football history, and not just any Texas high school football history. With their hard-fought, well-earned 22-7 win, the Lake Travis Cavaliers – only nine seasons removed from a disastrous 0-10 campaign – become the first team in Texas history to win five consecutive state championships. Their 30 consecutive playoff wins also set a state record. This spaceship monument, with its storied ring of honor hovering above the field and vivid colors throughout, hadn't even been built when the drive to five titles began. The moment will live on for years to come, perhaps because there will never be another like it.
"No one can ever take what you accomplished tonight away from you," Lake Travis coach Hank Carter tells his players as they gather near the famous star marking the center of the Cowboys' field. "One day they will make a movie about what you've done."
Only two other schools that play 11-man football have managed to win four consecutive state titles. Sealy, a University Interscholastic League Conference 3A school that is little more than a dot on Interstate 10 on the way to Houston and home town of the legendary Eric Dickerson, won four straight titles from 1994-97. Celina, located north of Dallas, won four straight titles in Conference 2A from 1998-2001. Tiny Fort Hancock, which plays 6-man football, also won four straight titles from 1988-91 and reached the championship game in 1992 before falling. Storied Southlake Carroll, in suburban Dallas, also played in five consecutive title games, winning four between 2002 and 2006. The Dragons lost to Katy 16-15 in 2003 to miss out on a run of five straight Conference 5A titles. One unlucky break can derail years of progress toward the unimaginable.
There is a reason it hasn't been done before. This is the land of Friday Night Lights, and blasphemy aside, football is a religion in Texas. Town and tradition matter, and the greatest imprints left on the game are often as significant as any battle won fighting for the state's independence. The association of schools such as Permian and Celina with Texas is arguably as strong as legendary names Crockett and Bowie (both names of which adorn no less than six schools in Texas) with the state. Football matters to every town in Texas, more than 1,000 of them. The dream of a championship means everything to any team when it steps on the sweltering practice field in early August. Earning just one state title can be remarkably tough. The road to five consecutive titles is all but impossible, but here the Cavaliers stand.
The reasons for Lake Travis' historic accomplishment vary. Circumstances, attitude, resources, population growth and a few extremely talented players only scratch the surface. Football pundits long thought that the Lake Travis community could produce successful football, though it would take 30 years and a near-catastrophic two-year stretch that saw Lake Travis win just once in 20 games for the right people to put the right plan into place. No one in their wildest dreams, though, thought Lake Travis, which had only four winning seasons between 1984 and 2002, could become the school to summit the tallest mountain on this December night.
"It's just awesome what they're doing right now," said Jim Shewmake, who coached the Cavaliers from 1998-2000. "We felt when we first arrived there – we looked 10 years out and thought it would be an outstanding place. I never thought they'd win four or five state titles in a row, but I envisioned that within that window they would become perennial district champions and a perennial playoff team. Things have to go your way to win it all, but we really thought they'd be in the hunt for championships. With the growth that was coming and people who wanted to be there and do the right things, it really panned out. I'm pleased for the community."
Through the years, as success came to Lake Travis, the bar measuring that success rose. From simply winning games to winning district titles and now winning state titles, Lake Travis' most recent coaching staff began working on meeting that bar each day at practice. One difference between Lake Travis and other schools can be seen in a regular practice week. The Cavaliers no longer spend a great deal of practice time game-planning for the opponent. While there remains some of that, identifying key tendencies and devising schemes to stop them, much of the focus remains on the Cavaliers themselves. Lake Travis improbably now plays to its own standard, and regardless of who takes the field opposite the Cavaliers any particular Friday, those wearing red and black believe that simply executing their plan, meeting their own standards, will result in a convincing victory. What's happened has been nothing short of remarkable. The standards that the coaches and players set and accepted, and the unwavering desire to meet and exceed those expectations at all costs, combined to drive a recently-lowly program to heights never previously achieved.
"We talk about the only team that can beat us we feel is Lake Travis," said Carter, who in 2011 had just finished his second year as the Cavaliers' head coach after spending two years coordinating the defense, where with his broad shoulders and strong chin he looks as if he could lead a goal-line stand as a linebacker. "As long as we go out and play our game and we don't make mistakes, then regardless of who we're playing, we're going to be fine."
Such was the case as the Cavaliers neared the pinnacle of their penultimate victory. As they prepared to take on Midway at the beginning of championship week, it became clear to any observer that the Cavaliers' success has not jaded the team; that the important moments remain worth working toward. Opportunity rose again, and the Cavaliers focused on making the most of it.
"That being said, the things we talk about the most, too, are we have an opportunity to win a state championship this year, and you can't say that every year," Carter said the Monday prior to the title game. "We've been able to say that lately, but that doesn't last forever. And so when we have an opportunity, let's make sure that we make the most of it. It's kind of cliché, but we don't want to have any regrets."
Standing with another championship trophy near the Cowboys' bright blue and silver star midfield, there are no regrets. A dream three decades in the making has come true five times over. Go back to the beginning, though, and it's hard to imagine the story winding up here.