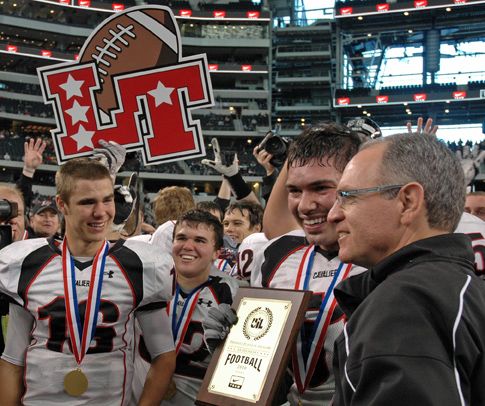 Drive to Five: the Lake Travis High School story
The great Texas high school football programs are built over time. The biggest names have been playing championship-level football in the state most known for high school football seemingly since people began taking notice in the early 1900s.
Odessa Permian. Katy. Highland Park. Amarillo. Sealy. Converse Judson. Southlake Carroll. Between them, the six schools have played in Texas state championship games more than 61 times. They've earned a combined 38 championships with titles that date back as far as 1934. Their place in history has been cemented over time, their longstanding, consistently successful, often titular bodies of work.
So how does a school that has only been playing football for 33 years, and winning football for only a third of that time, join the ranks of the elite? Lake Travis High School, just west of Austin, managed to do exactly that. Despite a rather brief history and one virtually devoid of success prior to the mid-2000s, Lake Travis became the first school in the grand history of Texas high school football to win five consecutive state championships, claiming a UIL Conference 4A title each year from 2007-2011.
"Drive to Five: How Lake Travis High School went from football doormat to Texas dynasty" follows the Cavaliers on their meteoric rise following a historic low and recounts the stories of the games, the coaches and the players responsible for the rise, responsible for turning a team that went 1-19 over a two-season stretch into a program capable of winning championship after championship, reaching heights that a precious few – a fortunate few – thought possible.
Our mission
Welcome to ltfootballbook.com, home of "Drive to Five: How Lake Travis went from football doormat to Texas dynasty." In addition to providing a way to buy what we hope is an entertaining, informative and detailed look at how Lake Travis High School rose from the deepest of depths to achieve a title run unmatched in Texas football history, we also hope to provide new, fresh content as the Cavaliers compete in a new season with new challenge and the same goal -- to compete again for a state championship.
Please learn about the book by perusing the excerpts, quotes and reviews we share, but also keep us in mind as the season progresses for unique coverage that could quite possibly turn into an addendum to "Drive to Five."
Thanks for visiting. Please enjoy.